If you're looking for a short recipe for dinner, then the chicken and biscuit crockpot recipe would be perfect for you. You can get a high proportion of protein from just one meal. My mother made a very elaborate version of chicken and biscuits for years for dinner. But with the slow cooker and by the grace of YouTube, I discovered the easy way to do so.
With chicken and biscuits, the best thing is that you'll be able to customize it however you like. You can just throw away the vegetables you have. Or skip them completely. We added a long list of ingredients, but those are mostly seasonings, and you can skip them if you like. But still, if you want a short and authentic chicken and biscuits recipe, we suggest trying our recommended chicken and biscuits crockpot recipe.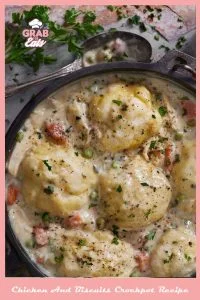 Know About the Chicken and Biscuit Crockpot Recipe Ingredients
There are several ingredients listed in the recipe, but you can skip one or two depending on your preferences. Here we are including a detailed ingredient list for the chicken and biscuit crockpot recipe.
Ingredients  
Chicken Breasts: We included a recipe for 4 chicken breasts. Go with four boneless and fresh chicken breasts. Prepare them well before putting them in the crockpot.
Chicken Stock: The chicken broth will add flavor. You can definitely use water, but the taste might turn bland. You can use chicken stock made at home or just go with a canned one. 1 cup of chicken stock is added.
Onions: You can't make a savory dish without any onions. 1 large onion finely chopped.
Potatoes: Potatoes are the best carbohydrate. And thus, you can use one large potato. Dice it into four sections. But you can also peel four medium ones before placing them in the crockpot.
Cream of Mushroom: this ingredient is thick in texture and will taste delicious in the recipe. You can skip it and use some other kind of soup. But it truly adds richness to the flavors.
Cream of Chicken: Yes, we added two different kinds of soups to the ingredient list. You can just buy the cans from the grocery store and pour them directly into the crockpot. 1 cup of chicken cream is added.
Salt: Don't skip salt, as it won't taste good. Start with a fair idea. And then, taste the food before adding vegetables, adding more if needed.
Pepper: Freshly ground black pepper makes a huge difference. It not only brings out the flavor of the chicken but also adds a hint of spice.
Oregano: Oregano gives a rich flavor to the crockpot chicken and dumplings. It also enhances the smell. 1 teaspoon of oregano is fine.
Bay Leaf: This spice is perfect when you want your kitchen to smell like crockpot chicken dumplings.
Garlic: Cloves of garlic or garlic powder are important for the crockpot chicken dumplings biscuits. Mince the garlic before throwing it in the cooker.
Peas: Peas add nutrition to the recipe, and they'll also add a crunch to the taste.
Carrots: Use 1 cup of diced carrots on the dish. This is just another vegetable. You can throw a bag of frozen mixed vegetables in here too.
Paprika: I like the smokiness that paprika adds to a dish. But this is optional. Avoid paprika if you don't like spicy dishes.
Cheese: We added cheese before serving the dish. 2 cups of mixed or cheddar cheese are fine. It adds richness to the flavor. You can alternate cream with cheese.
Thyme: Before serving the crockpot dumplings, add thyme and let it simmer. The aroma it gives is heaven.
Biscuits: This is another statement of the chicken and biscuit crockpot recipe. Crescent rolls are perfect for the dish. Just cut them into pieces and bake.
Method of Preparing the Chicken and Biscuit Crockpot Recipe
There are several ways of cooking chicken and biscuits. Generally, you just throw the chicken in a slow cooker and cook it for hours. But in some cases, you throw the biscuits in the crockpot. This is known as the homemade chicken and dumplings crock pot. But for our first part, we are including the chicken and biscuit crockpot recipe, where the biscuits are done separately.
Step 1
Take the crock pot or slow cooker and use some cooking spray on it.
Step 2
Place the chicken breasts flat on the pot.
Step 3
Add potatoes and chopped onion to it. Add the chicken stock, cream of mushrooms, and cream of chicken on top. Then add all the spices, excluding the thyme.
Step 4
Cook the chicken on medium or high heat. In the case of medium, cook for 6 hours. And on high heat, cook for 6 hours.
Step 5
1 hour before serving, place the carrots or the mixed vegetables in the crock pot. And stir everything well.
Step 6
 Minutes before serving, add the peas and cheese on top.
Step 7
 Place the springs of thyme and let the dish simmer.
Step 8
 Get the biscuits from the cans and bake them in the oven as per instructions.
Step 9
Take the thyme stem off and then serve with the biscuits.
How To Cook Chicken And Dumplings In A Crock Pot?
When the chicken and biscuits are cooked in the same pot, they are known as "chicken and biscuit dumplings". Here we are including a brief on how to cook crock pot dumplings.
Cook the chicken as we mentioned before and add all the ingredients.
30 minutes before serving, add the biscuits on top of the soup. And cover it to let it cook.
Serve the biscuits and chicken dumplings together.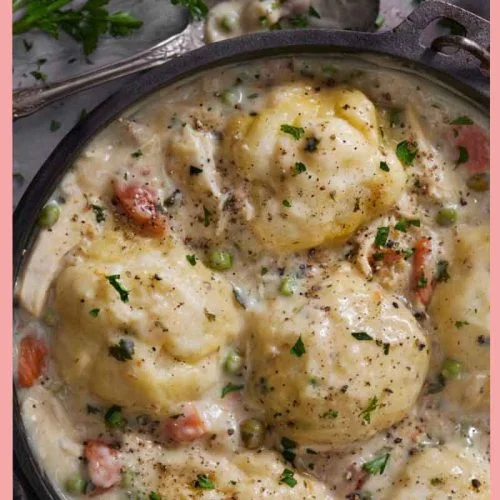 Chicken And Biscuits Crockpot Recipe- An Easy and Delicious Dinner
Chicken and biscuits crockpot recipe is easy and can be done in one pot. The biscuits can be added later or with the broth.
Print
Pin
Ingredients
4

Chicken Breasts

1

Cup

Chicken Stock

1

Onion

4

Potatoes

1

Can

Cream of Mushrooms

1

Can

Cream of Chicken

Salt

As you need

Pepper

As you need

1

Tsp

Oregano

1

Bay Leaf

3

Cloves

garlic

4

Sprigs

Thyme

1

Cup

Peas

1

Cup

arrots

1

Tsp

Paprika 

1

Cup

Cheese

1

Can

Biscuits
Instructions
Pour the chicken breasts, chicken stock, cream of mushrooms, and all the mix of spices into a slow cooker.

Add the chopped potatoes and onions to it as well.

Cook the mixes for 4 hours in high heat or cook for 6 hours straight in slow heat.

Add carrots and other vegetables 1 hour before serving.

Lastly, add cheese and the peas to the slow cooker and serve when done.

Bake the biscuits in an oven and then cut them in half.

Place one-half of the biscuit in a bowl and top it off with the chicken crockpot. Then place another half piece on top.
Tips
Here we are including some tips to get the best possible results with the chicken and biscuit crockpot recipe.
Add the biscuits only 30 minutes before serving, or the biscuits will get mushy.

Make sure to add fresh vegetables.

Chicken stock would give it a richer flavor.

Slow cooking for 6 hours gives it a good outcome.

Stir once in a while to combine the herbs and spices.
Nutrition
Nutrition Facts
Chicken And Biscuits Crockpot Recipe- An Easy and Delicious Dinner
Amount per Serving
% Daily Value*
* Percent Daily Values are based on a 2000 calorie diet.
Conclusion 
The chicken and biscuits crockpot recipe are the easiest way of serving a family of four. But you can definitely add more ingredients like cream to add more thickness to the dish. This dish is a favorite and a good way to get some vegetables for the children. They surely take time, but you won't have to be there the entire time.
Read More: