Each bite of these cookies are filled with sweet and savory mincemeat that melts in the mouth. What's better than buttery, chewy and spicy vintage mincemeat cookies on a Christmas eve? I've always been a big fan of Borden's None Such Mincemeat Cookies.
Traditional mincemeat itself has a huge bunch of delicious fruits and spices added into it with a little dose of booze which melts into lots of different sweet and savory flavors in mouth. If you love gooey, soft and fruity cookies, I can assure you that this is the best ever borden's none such mincemeat cookies recipe you'll ever find. And it's scrumptious and easy to make also.
Here's What You'll Need?
The key ingredients for the cookies are simple and readily available in your kitchen. However, mincemeat can be odd in this case. But don't worry! You can use both store bought or homemade mincemeat for this recipe. Without further delay let's get into the ingredients.
Flour: This is the main ingredient in the cookies since it provides a structure to the cookies. You need to be careful with the measurements as faulty measurement of flour can give you an entirely unexpected result. Evenly fill your measurement cups to avoid doughs which don't spread well in the oven. You'll need three full cups and a one fourth quarter cup of flour for this recipe. 
Baking soda: Baking soda uplifts the cookies. 1 teaspoon baking soda will be enough. 
Salt and sugar: Together they enhance all the flavors. To get the best result you can use a mixture of both brown and granulated sugar. Granulated sugar helps the cookies spread more and brown sugar adds the best flavor and makes it gooey. You'll need a mixture of one and a half cups of both the sugars for this recipe.
Vegetable shortening: This is a vegan substitute to butter to increase the shelf life of the food. But you can always use salted or unsalted butter which you have at hand. Reduce the amount of extra salt if you're using salted butter. You'll need one cup of either of these. 
Eggs: Eggs incorporate and hold everything together. Room temperature eggs give the best result. This recipe will require three large beaten eggs. 
Mincemeat: This is the hero ingredient of this recipe. Mincemeat is a fermented mixture of suet, fruits and spices. You can use both jarred or handmade ones. Vegan mincemeat is available in the shops as well. For this meat cookies recipe we will need to use 1 and a half cup of mincemeat.
How to Make Mincemeat Cookies?
Traditional recipe of meat cookies is very simple and basic. It takes about 1 hour in total including resting time. Let's see how these mouth watering mincemeat cookies are made:
Step-1
Stir and incorporate flour, salt, and baking soda which are the dry ingredients.
Step-2
Then, begin beating softened butter or vegetable shortening to combine the wet components.
Step-3
Add brown and granular sugar gradually and continue to stir until the cream becomes foamy.
Step-4
Add three thoroughly beaten eggs and continue mixing until the mixture is smooth.
Step-5
Stir the mincemeat into the beaten egg cream once the ingredients have been thoroughly blended.
Step-6
Then continue to gently add the dry ingredient mixture.
Step-7
Use a rubber spatula to gently fold the mixture as you combine each ingredient until it forms a dough.
Step-8
Chill the dough in the refrigerator with plastic wrap covering it for about 30 minutes. Cookies' mincemeat will somewhat tighten in this process, which will stop the cookie batter from spreading too widely in the oven.
Step-9
Lastly, arrange the chilled cookie dough with an ice-cream scooper on your baking tray or mat. Don't forget to use a baking sheet if you're using a baking tray.
Step-10
Then gently press down the scooped dough a little bit.
Step-11
These Italian mincemeat cookies will take about 12 minutes to bake inside the oven 400°F (200°C).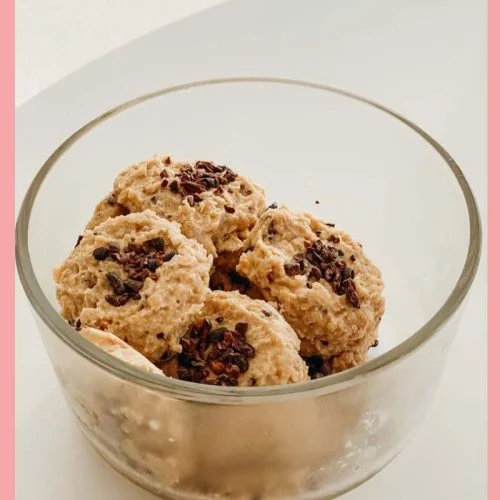 Borden's None Such Mincemeat Cookies Recipe
Here's the easy-to-follow Borden's None Such Mincemeat Cookies Recipe with step-by-step instructions.
Print
Pin
Ingredients
3 1⁄4

Cups

All-Purpose Flour

1⁄2

Tsp

Salt

1

Tsp

Baking Soda

1

Cup

Vegetable Shortening/Butter

1 1⁄2

Cup

Sugar

Brown+Granulated

3

Large Eggs

Beaten

1 1⁄2

Cup

Mincemeat
Instructions
Take the flour, baking soda, and salt. Mix them well

Add butter, brown and granular sugar gradually

Add3 eggs into the mixture and keep stirring

 This time add the mincemeat and keep mixing

 Add the dry ingredients mixture

You can use a rubber spatula to gently fold the mixture

 Cover the dough with a plastic wrapping paper and refrigerate it for 30 minutes

Arrange the chilled cookie dough with an ice-cream scooper on your baking tray or mat

Now gently press down the scooped dough a little bit

 Bake your Italian mincemeat cookies at 400℉ for 12minutes
Tips
Jarred mincemeat will give a gentle fruity taste while homemade ones will give more savory and spicy flavor. Choose according to your taste.
Use both brown and granulated sugar.
Eggs should be at room temperature for the best results.
Use vegetable shortening instead of butter to increase shelf life of the cookies.
Refrigerate for about 30 minutes before placing it into the baking tray.
Nutrition
Nutrition Facts
Borden's None Such Mincemeat Cookies Recipe
Amount per Serving
% Daily Value*
* Percent Daily Values are based on a 2000 calorie diet.
Final Words
These scrumptious cookies are perfect for any holiday eve celebration. It's a flavourful dessert recipe that's absolutely adored by both young and adults. If you're a cookie lover you should definitely try out this recipe at least once.
Read More:
Wegmans Chocolate Chip Cookie Recipe