With Tuna, you can make a tasty dish also with health benefits for your cell health, metabolism, DNA, and your heart too. Jersey mike's tuna recipe is one of them. You can use this jersey mike's tuna salad to make an incredible jersey mike's tuna sandwich which can be a great addition to your lunch. This dish is super easy to make and time-saving also. Now all over the world this tuna salad and fish sub is a trending dish.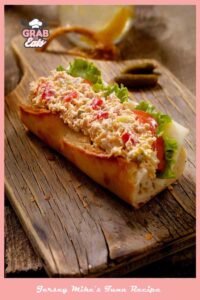 Know About Jersey Mike's Tuna Ingredients and the Recipe
Tuna fish: Tuna fish is full of health benefits. It contains protein, vitamins, and numerous minerals. Especially it contains vitamin b-complex, along with vitamin A and vitamin D. it also contains iron as well. Especially we can get Omega -3 essential fatty acid from tuna fish. However, make sure you cook your tuna fish earlier in order to make this recipe. Measure 2 cups of pre-cooked tuna. 
Eggs: Boil 2 eggs in a hard-boil form and afterward peel them. Dice finely! 
Asparagus: This plant, asparagus has a lot of nutritional value too, this is full of antioxidants and has a high amount of vitamins and minerals. Take 1 stalk of asparagus and dice finely.
Onion: It's one of the most highly used vegetables in the world. The best part of this is it helps to lower the level of cholesterol. In our recipe, we are mainly using a red onion. Peel them and chop finely, then measure 1 cup. 
Extra Virgin Olive Oil: Antioxidant and anti-inflammatory properties of olive oil make it a nutritious supplement for other oil. Extra virgin olive oil will be the best option for this recipe. So, measure 1 tsp of EVOO. 
Pepper: Pepper is the most used spice all over the world. It has great antioxidant power and a high flavor. With a spoon of use, it can add a great flavor to the recipe
Mayonnaise: Mayonnaise is used to thicken the mixer and to add a flavor to the recipe. Assess 1 cup of mayo or you may add more as per your taste. 
Curry Powder: Curry powder is originated from India and is made of cumin powder, turmeric powder, ginger powder, and ground black pepper. It adds a very nice flavor to this recipe. So, adding this is optional or add as per your taste. I usually add 3 tbsp of it. 
Relish: Relish or cucumber pickle adds a very savory taste to this recipe. I love the tangy blast when in the mouth. Also, it gives a flavor kick. Don't use here more than ¼ cup. 
How to Make Jersey Mike's Tuna Recipe
This jersey mike tuna salad recipe is made with crunchy veggies and red onion, flavorful plump, mayo, cilantro, dried herbs, and, of course, anyone else can make this dish because it only takes five minutes to put together. The best tuna salad you've ever had, with red grapes, parsnips, and shallots. Berries, carrots, and a scrumptious curry dressing formed with spice and a secret ingredient go into this jersey mike's tuna salad. Here is the steps: 
Jersey Mike's Tuna Salad Recipe
Step 1: Take a large size bowl
Step 2: Put your tuna and the egg in the bowl and mix well with the help of a spoon
Step 3: Now add the veggies to the mixer and mix them carefully
Step 4: Now add the olive oil, pepper, vinegar, curry powder and the relish to the mixer and continue mixing
Step 5: Add the mayo to the mixer and mix properly
Your salad is ready to use 
Jersey Mike'S Tuna Sandwich / Tuna Sub Recipe
Step 1: Take traditional white bread and at the regular size (7-1/2 inch)
Step 2: Cut the bread equally by middle
Step 3: Cut your onions, lettuce, tomatoes and place inside the bread
Step 4: Put your tuna salad on over the vegetable
Step 5: Now repeat the same layer over the salad
Your Sandwich is ready to serve!!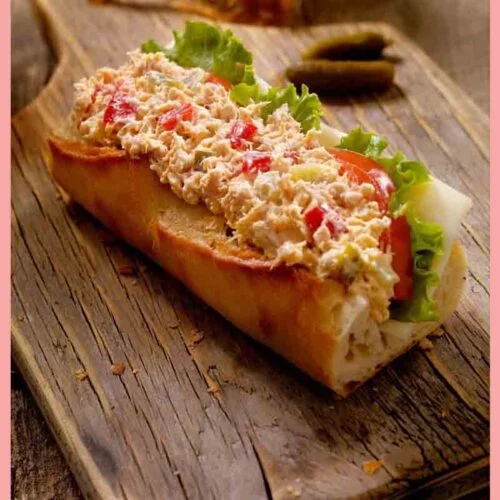 Jersey Mike'S Tuna Recipe
jersey mike's tuna recipe is tasty and super easy recipe, if you're looking for authentic recipes, look here and enjoy with friends and family members.
Print
Pin
Ingredients
2

Cans

tuna fish

2

pcs

Eggs

1

stalk

Asparagus

1

Cup

Onion

1

tbsp

Vinegar

1

tbsp

Olive oil

¼

Cup

Relish or cucumber pickle

1

tbsp

Pepper

3

tbsp

Curry powder

1

Cup

Mayonnaise
Instructions
In a mixture add asparagus, onion, olive oin, pepper, vinegar, curry powder, mayo, and relish. Mix properly.

In a bowl, mix cooked tuna with minced eggs.

Into regular white bread, staff together tuna salad, onions, lettuce, tomatoes and enjoy!
Tips
Tip 1:
You can use avocado smash as supplementary OD mayonnaise 
Tip 2:
Do not take over vinegar it can affect the taste of your recipe
Nutrition
Nutrition Facts
Jersey Mike'S Tuna Recipe
Amount per Serving
% Daily Value*
* Percent Daily Values are based on a 2000 calorie diet.
Wrapping Up
I tried this jersey mike's tuna recipe several times and shared the jersey mike's tuna sandwich with friends and family. You don't need to try out something special while preparing this recipe. Just follow our super easy steps and make your tuna salad at your home and enjoy with your nearest people!!
You May Also Like: