It is best to eat a little sweet food during the day. And the most popular thing as a dessert is cake. There are many types of cakes but here is the simplest one. The lightning cake recipe is an easy yellow recipe that is foolproof. Would you believe it? With 2 eggs, you can make such a sponge-like soft cake.
 This mouth-watering wonderful lightning cake makes up too quickly. It is a super yummy dessert for all ages of people. The cake is always a perfect meal for dessert. Ingredients that we use in a cake are very healthy and easy to find. 
It only takes you 1 hour to create it. Surprise your family with this cake at dessert time or at any birthday occasion or family occasion. They will like it. So let's not know about this simple yellow cake recipe.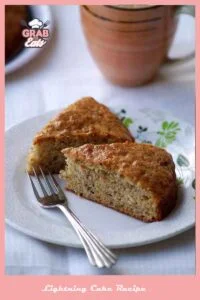 Know About Lightning Cake Recipe and Its Ingredients 
For this, you have to know about this recipe well. First, you need to know about all the ingredients here.
All-purpose flour 
All-purpose flour is hugely used for cakes, muffins, and so on. This is a must for any cake or baking. It is much better than plain flour.
Baking powder
For baked well, and get the best-textured cake, use baking powder. It releases the carbon dioxide from the cake dough. These are the most leavening ingredients used in any cake recipe.
Milk
You can use milk to moisten the cake batter or add good flavour, texture, and colour. Use milk instead of water to make the batter consistency much better. It prevents cakes dryness and dullness. Always try to add warm or hot milk to cakes.
Butter 
To make the cake fluffy and risen use butter. It also adds light and tender consistency to cakes. Also, people use butter to mix the dry ingredients quickly. 
Eggs
To maintain the cake's structure and add protein, eggs help a lot. Try to use room-temperature eggs for better output. It's essential to keep the perfect measurements of eggs. Too many eggs can make the cake rubbery, and fewer eggs can make the cake dry.
Annabel langbein Orange Cake 
You can make this yummy Annabel Langbein orange cake with a couple of ingredients. For this, we will need:
Baking soda 1 teaspoon 
Butter 4 ounces 
Sugar 1 cup, 2eggs
Vanilla 1 teaspoon 
2 cups flour
Golden raisin 1 cup
Chopped walnut ½ cup
Take an 8-inch diameter cake pan cod it with baking soda. For the best result, preheat the oven. Now copped an orange add baking soda, butter, sugar, eggs, vanilla, and flour mix them all for 5/6 minutes. After combining them, add golden raisins and again mix. Now put it on the pan and bake for 1 hour and this delicious cake is ready. 
Flash Cakes Recipe 
For making a flash cake, you will need:
Plain flour 225g
Caster sugar 225g
Cocoa powder 85g
Bicarbonate of soda 1.5 teaspoon 
1 tablespoon salt
2 eggs
Vegetable oil 125 ml
Buttermilk 250 g
Vanilla extract 2 tablespoon 
Boiling water 250 ml
First of all, mix all dry and wet ingredients individually. Combine dry and wet ingredients, then add water. Now pour all of these things into different round tins. Bake the cake for 40 minutes at 150°C. When it is baked well, let it cold. You can decorate it as you like.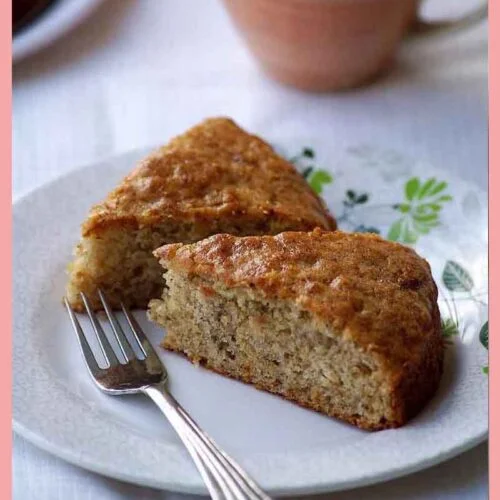 Lightning Cake Recipe
We all want to save time, and at the same time, you want to serve nutritious desserts. If you have no time for dessert, you can try this lightning cake recipe. Every ingredient is very cheap, and anyone can make it anytime.
Print
Pin
Ingredients
1

cup

All-purpose flour

1

tbsp

Baking powder

1/4

tbsp

alt

1/2

cup

Milk

1

tbsp

Butter

2

Eggs

at room temperature

1

cup

Sugar
Instructions
First of all, heat the oven at 375° before bake. For this case, we will need an 8-inch square pan.

Grab flour, baking powder, salt on a surface covered with wax paper.

Before putting in milk, make sure the milk is warm. Here all add the butter and mix them very

Add eggs and remix them with a hand mixer. Then add sugar and vanilla one by one. Continue mixing until you get the fluffy and smooth texture.

in this time, add flour and hot milk and blend them for 4/5 minutes. Now the cake paste is ready to bake.

put the paste onto the pan smoothly and set well. You have to bake it for 25 to 30 minutes. To check the cake, you can use a toothpick or with fingertips.

When baked well, it's time to frost the cake with powdered sugar, jam, or jelly. It also tastes excellent with ice cream. Enjoy this fantastic dessert.
Tips
Try to use aluminium foil and sprinkle a bit of flour or butter in the pan to remove the cake easily from the pan.
This is very important to use hot milk, not boiled milk. Please don't use room temperatures or cold milk cause it will make the cake texture heavy and dense. 
If you think hot milk will make the egg boil, then you are wrong. You have to mix milk, butter, and eggs thoroughly with everything.
Nutrition
Nutrition Facts
Lightning Cake Recipe
Amount per Serving
% Daily Value*
* Percent Daily Values are based on a 2000 calorie diet.
Conclusion 
You will find many dessert items on the Internet, but most take time to make, or the materials are costly. But as easy as making a lightning cake, you can always make a delicious dessert with just a few ingredients available at home.
So what are you waiting for? Go to the market with an ingredients list and make this wonderful dessert within a few minutes? As the ingredients are not expensive, you can make it in the everyday dessert.
You May Also Like: