Ever tried Texas baked beans? Well, we tried it on Rudy's a few months earlier. Rudy's BBQ beans go well alongside your hamburgers or any other treat. Of course, it's an excellent interpretation of cowboy-style beans. So, you can follow a homemade Rudy's Beans Recipe to get this delicious dish on your table.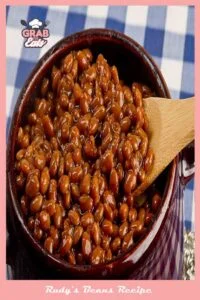 Now, we did try to mimic the recipe at home and we are happy with the results. And you know we love to share our mimicry and this one is one of our favorites. It's a simple recipe and a healthier option for use. Let's not discuss anything further and move on with the recipe. 
How to Make Rudy's Texas Cowboy Beans?
These are not your usual baked beans, by the way. We have meat, beans, and other ingredients to bring versatile flavors to our dish. Not to mention, the green chili and hot pepper sauce call for a sweet bean dish. 
Beans are cheap and pack a lot of proteins. Also, they can give you a boost while you are at your breakfast table. But most of the time – you wouldn't want to eat a dull dish at breakfast. That's why adding versatility to the dish is important. 
Cowboy-style beans have a mixture of hot pepper sauce to add slight spiciness. On the other hand, it's not too spicy to surprise you. Rather, the sweetness of the baked beans can start the day with a delightful mouthfeel. 
Making the baked beans is not that hard – you have to spend only 15 minutes in preparation – and wait 2 hours for the beans to cook through in the oven. Once the beans are ready, serve it piping hot and eat it while hot. 
So, it's all about the 15 minutes preparation time. 
15 Minutes Preparation Method:
It's not that hard to prepare all the ingredients. First, we need to prepare ground beef. Yes, we can use store-bought ground beef but if you want a fresher taste – ground the beef on your own. Then we have to prepare the green chili peppers. Just as we said, if you don't want to spend time or prepare fresh ingredients, you can buy canned chili peppers. Finally, we need to peel and chop 1 small Vidalia onion. 
That's about it – you should need 15 minutes or less to prepare all the ingredients. Finally, we will measure all the ingredients and start to cook. 
So, what are the ingredients for our Texas baked beans? Let's check them out first. 
Ingredients We Will be Using
Ground Beef: We need 1 pound of ground beef for the baked beans. 
Baked Beans: We are making this dish to serve to at least 12 people. So, we would require a lot of beans. You can buy 4 cans of 16 ounces beans. It would be better if the beans have pork in them. Otherwise, you'll have to prepare the pork separately. 
Green Chili Pepper: Chop and prepare 4 ounces of green chili pepper. Or you can buy 1 can worth of green chili pepper. 
Vidalia Onion: Vidalia onions are much sweeter compared to other sharp flavored onions. We don't need a lot of onions for our beans. Roughly chop 1 small Vidalia onion and we are good to go. 
Barbecue Sauce: Measure 1 cup worth of barbecue sauce for the beans. 
Brown Sugar: It's better to keep the beans sweet and savory. So, to enhance the sweetness, we will add ½ cup brown sugar. 
Garlic Powder: Adding 1 tablespoon worth of garlic powder can bring out the aroma and richness of our baked beans. 
Chili Powder: Too much sweetness will not satisfy our taste buds. So, we need to balance the sweetness by adding 1 tablespoon of chili powder. It will also give color to our white stew. 
Hot Pepper Sauce: This is one of the main ingredients to create a bold flavor. We will need 3 tablespoons of hot pepper sauce. 
Step by Step Instructions
Step 1: Place a skillet over medium heat. 
Step 2: Time to brown the ground beef. Brown the beef until the pink color is no more. 
Step 3: After browning the beef, drain the fat from the skillet and set it aside. 
Step 4: In a slow cooker, combine the browned beef, baked beans, chopped green chiles, onion, and the barbecue sauce. 
Step 5: Season the mixture with brown sugar, chili powder, hot pepper sauce, and garlic powder. 
Step 6: Cook the mixture on high settings for 2 hours. 
Step 7: Serve it piping hot.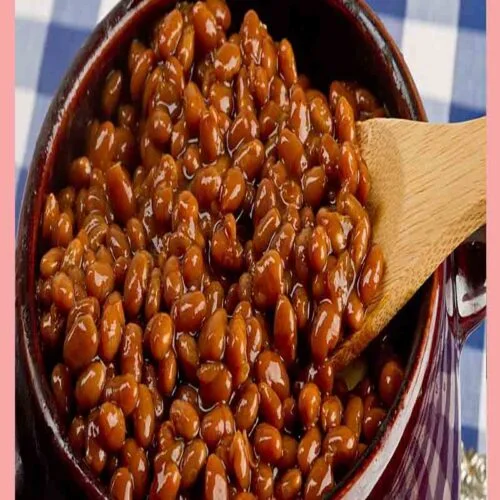 Rudy's Beans Recipe
Try our Rudy's Beans Recipe to start the day with a hearty breakfast meal.
Print
Pin
Ingredients
1

lb

Ground Beef

16

oz

Baked Beans

4

oz

Green Chile

1

small

Vidalia Onion

1

Cup

Barbecue Sauce

1

tbsp

Garlic Powder

1/2

Cup

Brown Sugar

1

tbsp

Chili Powder

3

tbsp

Hot Pepper Sauce
Instructions
Cook the beef until browned over medium heat.

Drain the extra fat and place the beef with veggies and BBQ sauce in a slow cooker.

Season with spices and sugar.
Tips
If you have time on your hands, cook the beans on low settings for 4-5 hours. This will disperse the flavors evenly.
Nutrition
Nutrition Facts
Rudy's Beans Recipe
Amount per Serving
% Daily Value*
* Percent Daily Values are based on a 2000 calorie diet.
Wrapping Up
Try these baked beans with bread or any other carbs. Not to mention, you can even store the baked beans for later use. You can add a little spiciness but the sweetness makes it so delicious!
You May Also Like: