There are plenty of ways you can use Jiffy frosting mix to your desserts advantage. Starting from cakes to puddings, the boxed frosting mix from Jiffy became widely popular. There are still Jiffy icing products on the market.  However, you can collect some common ingredients and try out the dry frosting mix recipe.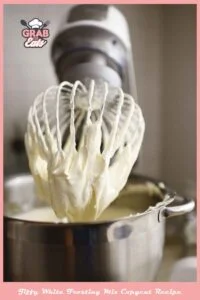 Now, there are plenty of recipes for the frosting mix online. But most of them are not the exact frosting mix from Jiffy. Here we will try to share our Jiffy White Frosting Mix Copycat Recipe. 
How to Make the Copycat Jiffy Frosting Recipe?
If we are honest with you, the white frosting has a vanilla-like taste. Mainly, it's made of white chocolate so you will get a vanilla flavored cocoa taste. Making the white frosting is simple but you have to use plenty of ingredients. 
After making the white frosting, the texture will be smooth and the taste unique. Usually, you need butter, vanilla extract, milk, and powdered sugar to make the classic white frosting. But when you want the exact Jiffy white frosting, you will need other ingredients like eggs, granulated sugar, and melted chocolate. 
Aside from the ingredients, the recipe instructions are similar to any classic white frosting. Now, we should tell you, mixing the granulated sugar will be important. Because the sugar will help you get a satiny texture on your white frosting. 
Finally, you can't call it a white frosting without the color white. In order to make the Jiffy icing white, you have to be picky about the butter. Make sure to avoid butter that is not terribly yellow. 
Well, all things clear – we will move on to preparation. 
How to Prepare the Dry Frosting Mix Recipe?
We have to mix butter with all-purpose flour to greet the creamy delight of your frosting. Just as we said, you should avoid yellow butter to keep the icing white. It will be hard to mix them by hand, so you better use an electric mixer. 
To prepare the Jiffy frosting mix, we have to add sugar and milk little by little. Otherwise, we won't be able to produce a satiny-like texture. Now, we should tell you this frosting will be suitable for piping. We will be adding baking powder and white cake mix to make the frosting smoother. 
So, you don't have to worry about piping and get the perfect smoothness of the Jiffy icing. Anyway, let's move onto the ingredients part: 
Ingredients We Need for the Copycat Jiffy Frosting Recipe
All-purpose Flour: We need 1/2 cup of all-purpose flour to get a smooth texture on the jiffy frosting copycat mix. 
Granulated Sugar: 1/2 cup granulated sugar will ensure we get a satiny texture. 
Baking Powder: Just 1 tablespoon of baking powder can help adjust the PH of our icing. 
White Cake Mix: We will be adding 1 pack of white cake mix to ensure a smoother texture. 
Egg Whites: Break 6 eggs and collect all the egg whites to add to the icing mix. It will give a complete frosting texture to the icing. 
Butter: We will add 1 stick of butter to ensure smoothness. However, make sure you avoid yellow butter. 
Milk: 1/4 cup of milk will act as the binding agent for the frosting. 
Step by Step Instructions for Making Jiffy Icing
Step 1: Take a large bowl to add in all-purpose flour, white cake powder, baking powder. Combine them using a spoon. 
Step 2: Now, add the egg whites and throw in the butter. Now, start whisking the mixture on high-speed for 5 minute with your electric mixer. 
Step 3: Little by little, start to add milk and granulated sugar. At the same time, keep beating the mixture until you get a good frosting. 
Step 4: Whisk until you get a smooth frosting texture
Step 5: Finally, spread the vanilla extract over the frosting.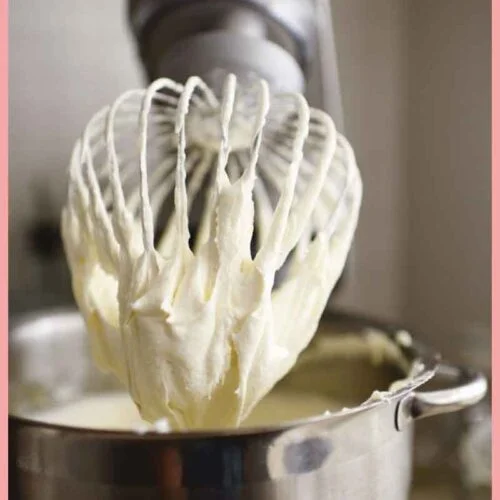 Jiffy White Frosting Mix Copycat Recipe
We have the exact Jiffy white frosting mix copycat recipe that you can easily prepare at home.
Print
Pin
Ingredients
1/2

Cup

All-purpose Flour

1/2

Cup

Granulated Sugar

1

Pack

White Cake Mix

6

Egg

(Egg White)

1

Stick Butter

1/4

cup

Cup Milk
Instructions
Mix all-purpose flour, white cake powder, baking powder in a bowl.

Throw in the stick of butter and add the egg whites to the dry ingredients. Mix them at high speed for 6 minutes.

Add milk and granulated sugar little by little and at the same time keep whisking

Whisk until a smooth texture

Finally, spread vanilla extract over the Giffy Icing
Nutrition
Nutrition Facts
Jiffy White Frosting Mix Copycat Recipe
Amount per Serving
% Daily Value*
* Percent Daily Values are based on a 2000 calorie diet.
Wrapping Up
Well, that's about it for our copycat Jiffy filling. If you have difficulties even after adding water, you can just add hot water to produce good results.