Herdez cooking sauce recipe is one of the best ways to enjoy the excellence of Mexican cooking sauce. There are many more recipes such as this. But this recipe is pretty easy to make. So, as a beginner to Mexican cuisine, this is definitely a good place to start. You get to build your confidence up and enjoy great meals at the same time!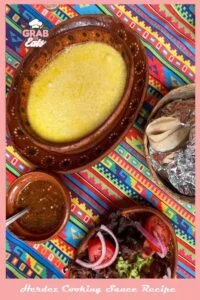 How to Make Herdez Traditions Recipe
You can obviously make the cooking sauce at home from scratch. But the Herdez sauce tastes really good and as a girst timer dabbling into Mexican cuisine, it's probably a good idea to start slow. 
This particular recipe requires not many ingredients and it has a great flow of progress during the cooking steps. 
To make this dish as good as possible, you must be careful and follow the recipe as it has been instructed here. You have to make sure the enchiladas do not get too soggy while layering up. Or the texture might not feel as good as it could. 
How To Prepare  Mexican Cooking Sauce Dish
Herdez chipotle sauce is great to use in a Mexican dish. It pretty much assembles well with most Mexican dishes. But this dish tastes even better just because of this sauce. So, it's important to follow the recipe thoroughly. 
Ingredients that You Will Need Are:
1 1/4 Cups Herdez Pasilla Chile Mexican Cooking Sauce Divided
2 Boneless Chicken Breast Halves
8 Flour Tortillas (around 8 Inch Spread Each)
2 Cups of Shredded Cheddar Cheese
4 Tablespoons of Cream Cheese
2 Tablespoons Sour Cream
Salt and Pepper, According to Taste
Step by Step Instructions for Herdez Enchiladas Sauce
Step 1: 
Ready the chicken breasts by cleaning them up, cooking them moderately then dicing them into cubes.
Step 2: 
Preheat the oven to 350 degrees Fahrenheit. On the bottom of a baking dish, spray cooking spray thoroughly and spread the cooking sauce. This is a coating to keep the dish juicy and moist from the bottom up. Set it aside.
Step 3: 
Mix the cream cheese, chicken cubes, sprinkle salt and pepper. Fill the middle of each tortilla with the chicken mixture and cheese sprinkle, roll them up loosely making enchiladas. Then start the layering process by placing the rolls on top of the cooking sauce in the baking dish. 
Step 4: 
MAke sure you have half a cup of cheese reserved for later usage. Mix rest of the cream cheese, half a cup of the Herdez cooking sauce and sour cream in a separate bowl. Make sure the mix is lump free and smooth. Top off the enchiladas in the baking dish with the cream, cheese and sauce mixture. 
Step 5: 
Bake the dish uncovered in the oven for about 20-25 minutes. Sprinkle the rest of the cheese on top of the enchiladas and check to see if the cheese has melted.
When the top of the dish becomes a beautiful golden brown, take it off the oven and let the intense steam out for 30 seconds. Serve the enchiladas with olives, sour cream, or freshly chopped cilantros, as you desire.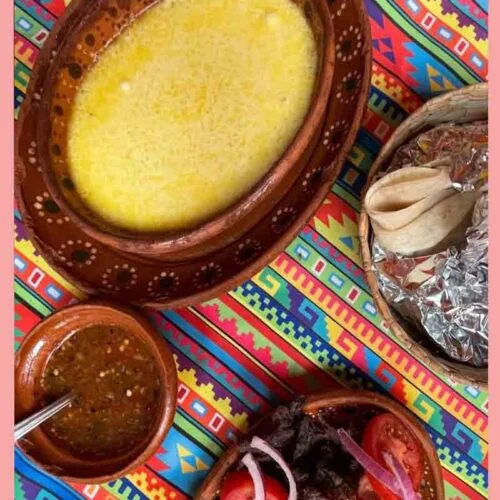 Herdez Cooking Sauce Recipe
Check out this great Herdez cooking sauce recipe that you can prepare at home. You will be able to make this and use it with any dish you like. Try it out today!
Print
Pin
Ingredients
1 ¼

Cup

Herdez Pasilla Chile Mexican Cooking Sauce

2

skinless boneless chicken breast

8

Flour tortillas

2

cup

shredded Cheddar cheese

4

tbsp

cream cheese

2

tbsp

sour cream
Instructions
Preheat the oven and spray cooking spray on a baking dish

Spread cooking sauce on the bottom layer, place tortillas on top, then layer the chicken mix and sprinkle cheese

Bake till ready, serve warm
Tips
You can use different kinds of meats to cook this dish, but make sure the meat is cooked before adding it to the final dish. 

You can use some spice if you want, for instance, add some chilli powder according to your taste, in the chicken mixture.
Nutrition
Nutrition Facts
Herdez Cooking Sauce Recipe
Amount per Serving
% Daily Value*
* Percent Daily Values are based on a 2000 calorie diet.
Wrapping Up
Pasilla sauce recipes are very popular and famous among people who have tried Mexican cuisine. You can now make those dishes without hesitation, since you have this recipe to help you out with the basics. There are many more recipes that use Herdez cooking sauce.
But this is a great recipe that you can try without having the fear of failing too badly. The ingredients all mesh together perfectly and the cooking is pretty easy if you have a good hand at the basics of cooking. Hopefully you enjoy having it as much fun as you will have cooking the dish!
You May Also Like: