Are you looking for a delicious dessert recipe? If yes, then look no further. This golden corral bread pudding recipe is sure to please everyone around.
Bread pudding has become a staple dessert for many families. It's delicious, filling, and nutritious. But most recipes call for store-bought mixes. This makes it expensive and difficult to make at home. But this copycat bread pudding recipe is easy and more inexpensive than most store-bought mixes.
Since its founding in 1973, Golden Corral has become famous for its excellent cuisine and service. These bread puddings are just as tasty as any other golden corral dessert, but they're also healthier because they contain no artificial flavors or preservatives.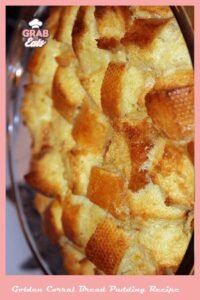 Know about the Golden Corral Bread Pudding ingredients
We created a clear and simple dinner roll bread pudding recipe with our step-by-step instructions and focused on using only fresh ingredients. You'll love the taste of these bread puddings, plus you won't have to worry about paying extra for unhealthy ingredients.
French Bread: This is the key ingredient on the list. That long thin bread is cut into cubic pieces for the recipe. It has a chewiness and nutty flavor in it for a longer fermentation process while making it. The hard and crunchy outside with soft, bubbled, puffy inside is perfect for our recipe. You will need 2-3 french bread baguettes. Other bread can also be used.
Eggs: The bread is fully coated with eggs like pudding. When the puffy texture of
bread meets the smoothness of the egg, it melts in the mouth. You will need 5-6 eggs. But you can use your own proportion
of milk: Milk is required to make a smoothie-like mixture, which makes the bread inside the egg coating even softer. And the milky texture of the bread feels heavenly. You may require 500-600 mL of milk.
Butter: Butter does the oiling and frying process of egg and bread, which make the egg coating attach to the bread. Vegetable oil here can be used, but I prefer butter. Oil gives a rich texture, but butter feels smooth in the mouth. Use 200 gm of butter.
Vanilla extract: Vanilla extract or vanilla essence is always preferred while baking something with milk and egg. The smell of eggs sometimes does not go well with the bread. On the other hand, some people don't like the milky smell. So vanilla essence does the job for that. Just e few drops maybe 3-4 drops only.
Cinnamon: Cinnamon with bread goes very well. Use cinnamon powder to have that sweet and spicy taste at a time. Use as per your choice, maybe 1 teaspoon whole cinnamon powder.
Salt: Salt is a tastemaker. Use salt as per your taste.
Baking powder: baking powder is used to lighten the texture. Use a little bit before baking and make your baked goods more voluminous. 2- 2 ½ tablespoons of baking powder are enough here.
Brown sugar: Brown sugar is healthier. And the brown color also makes the food color a little bit rich, which even looks good. You will use sugar as per your taste. But don't use more than 1 to 1 ¼ cups.
Method of Preparing Golden Corral Bread Pudding
The golden corral bread pudding recipe is easy to follow and can be made within hours. And what if I tell you that it's completely customizable too? Interesting huh? Yes, this is the best part indeed. So, if you want to change the flavor, add your favorite toppings, or even use different types of bread, this recipe will work for you.
Directions:
Step 1: Cube the bread by cutting it into 1/2 inches and put it in a big bowl to mix.
Step 2: Add the eggs, sugar, vanilla extract, salt, and butter. To ensure that every piece of bread is soaked in egg, give the mixture a good stir.
Step 3: Pour the bread mixture into an 8×8 square pan. Wrap it in plastic and leave it alone overnight.
Step 4: Preheat the oven to 350 degrees Fahrenheit. Remove the plastic wrap and bake the bread pudding for 45 minutes.
Step 5: While the bread pudding bakes, combine the milk, cream, and vanilla extract in a medium saucepan over low heat. Keep stirring on and off until the mixture boils.
Step 6: Once boiling, remove the pan from the stovetop and stir in the baking powder and baking soda until dissolved. Let cool slightly before adding to the bread pudding.
Step 7: After the bread pudding has baked for 45 minutes, pour the cooled liquid mixture over the top of the bread pudding.
Step 8: Bake an additional 15 minutes or until set. Serve hot, And don't forget to add your favorite toppings.
Enjoy!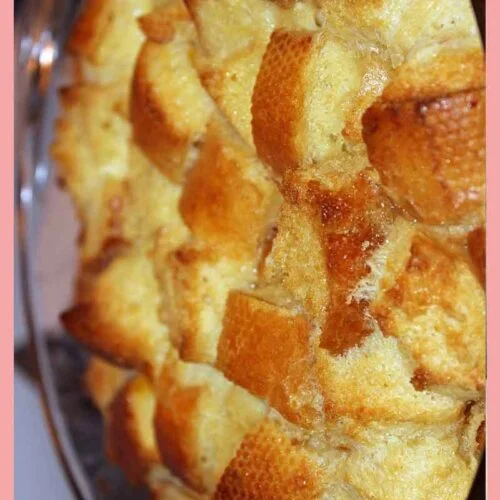 Golden Corral Bread Pudding Recipe
Golden Corral has been serving delicious food since 1973. This Golden Corral Bread Pudding Recipe makes the perfect dessert for any occasion.
Print
Pin
Ingredients
3

French bread

6

Eggs

600

ml

 Milk

200

gm

Butter

4

drops

Vanilla extract

1

tbsp

Full cinnamon powder

2

tbsp

Baking powder

1

cups

Brown sugar
Instructions
Cube the bread and mix everything in a bowl

Pour the mixture, Wrap in plastic

Remove the plastic wrap and bake in the oven

Combine the milk, cream, and vanilla over low heat

Stir in the baking powder and baking soda

Pour the cooled liquid mixture
Tips
Cover the leftovers tightly and refrigerate to make the bread pudding last longer.
You can easily substitute other bread in place of the French bread. For example, you could try whole wheat bread, cinnamon raisin bread, or white sandwich bread.
If you don't like sweet toppings, feel free to leave them out. You can add cheese, bacon bits, sausage, or ham if you prefer savory toppings.
This recipe combines milk and cream to create a rich custard-like texture. However, you can use either one alone or both together.
This recipe calls for baking powder and baking soda. You may be able to find these ingredients in your local grocery store. Or you can order them online.
Toppings for the golden corral bread pudding include chocolate chips, pecans, coconut flakes, marshmallows, bananas, strawberries, blueberries, apples, cherries, pineapple chunks, and more!
Nutrition
Nutrition Facts
Golden Corral Bread Pudding Recipe
Amount per Serving
% Daily Value*
* Percent Daily Values are based on a 2000 calorie diet.
Last Words
Golden corral bread pudding is a delicious dessert that's perfect for serving during the holidays. This recipe has a rich flavor thanks to the combination of cinnamon and vanilla extract.
You won't regret trying this recipe, especially since it takes less than 30 minutes to prepare. So, grab a bowl, a spoon, and a plate, and let's dig in!
You May Also Like: