By the name, you might've guessed we're talking about a recipe including chicken and potato. Yes, today, we're going to show you how you can make a tremendous US-Italian recipe that can be a main course at your upcoming dinner party. Chicken Murphy recipe is a dish that you can customize according to your wish and present in many different ways. 
The main attraction of this dish is the variety of sauces. The tanginess and spiciness added with the mushroom, chicken, sausage, and potato give a mouth-watering smell and flavor. You don't need to look for rare ingredients while making this dish. So, let's check it out.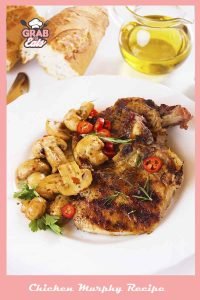 Know About Chicken Murphy
The Italian chicken murphy recipe is quite famous among residents of New Jersey. On many occasions, tour guides would recommend trying out chicken or shrimp murphy while visiting New Jersey. The dish is presented with pasta, bread, rice, etc. That's why you can feel the taste of this recipe in many ways possible. 
Recently, I've tried murphy chicken with cherry peppers over Italian spaghetti. The combination seems quite a traditional presentation for spice lovers. Now, let's show you what ingredients you'd need and how you can make this thing at home. 
Ingredients You Need
Chicken: Chicken is the key ingredient of this recipe. 4 Boneless and skinless chicken breasts are mainly required for making the murphy. But you can also use beef, turkey, or lamb meat instead of chicken if you insist. 
Tomato: The tanginess and juiciness in the chicken murphy from fresh tomatoes. You need to use one bowl of diced tomatoes to cook the sausage and chicken. 
Sausage: You need to use 2-4 sliced hot or sweet sausages from the market to bring meaty variations to the dish. Sometimes, you can also cook the murphy without sausages. But that would decrease the number of servings. 
Potato: 3 medium-sized peeled potatoes are enough to complete the dish. Don't think of adding too many potatoes, it might change the taste of the dish. 
Olive Oil: at least 250 ml of olive oil is required to complete the whole murphy cooking process. There are many steps of cooking, baking, and stirring. So, you better keep enough oil in your kitchen. 
Capsicum: Pepperoncini, capsicum, or bell peppers make the dish spicy. It'd be better if you are able to collect one bowl of equally diced various peppers. The variation not only enhances the taste but also decorates the whole serving. 
Soy Sauce: While cooking every ingredient together, you can use 3 tablespoons of soy sauce instead of salt to make sure the meat and potato melt properly. 
Onion: Onions can come in handy in enhancing both the taste and outlook of the dish. Though it's not a mandatory ingredient, you can still add this to the list. 
Mushroom: The more tender and meaty murphy becomes, the better you'd feel eating the dish with pasta, bread, and rice. You can add canned mushrooms to your dish if you don't find fresh mushrooms nearby. 
How to Make Chicken Murphy Step by Step?
Step 1
Put the microwave in preheating at 350 degrees or more. The preheated oven can combine all the roasted and seasoned ingredients quite well. 
Step 2
Now, take a large pan and put 3-4 spoons of olive oil in it. When the oil is hot, roast each ingredient separately until they become brown. 
Step 3
After roasting the items, season the chicken, mushroom, and potato with any market seasoning. If you're a spice lover, then add extra red chili powder. 
Step 4
At this moment, wait for every ingredient to cool down a bit. Then, gather all the stuff in a microwave dish. Pour ¾ cup of soy sauce over it and stir for a bit. 
Step 5
Finally, put the dish in the preheated oven and let it cook for nearly half an hour until the sauce is fully soaked and the ingredients have changed color. After that, the dish is ready to be served with any other dishes. 
Step 6
In fine, serve the chicken murphy in a white plate. Put some tomato sauce if you want a tangy flavor. The dish is ready to eat.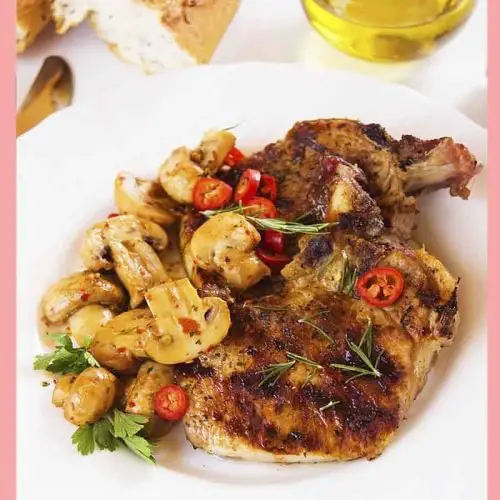 Chicken Murphy Recipe
Today, we're allowing you to know about the easiest chicken murphy recipe that you can make without any hustle.
Print
Pin
Ingredients
2

Pounds

Chicken

Tomato

4

Sausage

Hot or Mild

4

Tbsp

Olive oil

4

Potatoes

Large

Capsicum

Soy sauce

Mushroom
Instructions
Then roast every ingredient in a pan separately using olive oil.

After that, mix everything and put the pan in the oven for more than 30 minutes for baking. 
Tips
Make sure you've cut the sausage and chicken pieces into very small cubes. 

The best way to add potato here is by boiling it before roasting. You can also use mashed potatoes directly in the murphy dish to bake. 

You can use different types of salts to enhance the taste. But make sure the meat doesn't get too salty. 

There's no limitation to the number of ingredients. So, you're free to use any suitable meat or vegetable with the murphy recipe.
Nutrition
Nutrition Facts
Chicken Murphy Recipe
Amount per Serving
% Daily Value*
* Percent Daily Values are based on a 2000 calorie diet.
Summary
I think I've told you about the finest dish you can eat with a bare plate of spaghetti or a rice bowl. And the most interesting thing about this dish is it can be solely served if you've nothing else to offer. 
However, this dish is very nutritious and mouth-watering. So, I bet no one would ever complain if you put a bowl of chicken murphy in front of him or her. Thus, I hope my today's discussion is handy enough to help you make such an amazing dish at home.
Read More: