The bourbon salmon and flavored rice from cheddars can make your day! There are times when you don't have enough money to make something special. Well, you can bulk the meal using beans, but seasoned white rice makes more sense. Yes, it won't take the time or need a complex cooking process.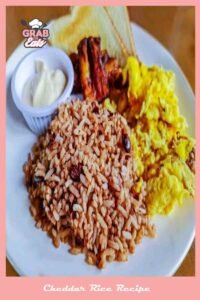 Allow us to lend you a hand with our Cheddar rice recipe. This is a copycat texas roadhouse rice recipe. The flavored white rice is sure to make you happy on special occasions. So, let's have a good look at our rice and spice dish from Cheddar. 
How to Make Texas Roadhouse Seasoned Rice?
Seasoned rice recipe for fish became very popular. Dating back to 1993, Roadhouse kitchen started making green beans, steak, and chicken. Even though you will use simple ingredients, it packs flavors. Now, if you ever had this dish, you might want to recreate it at home. 
Mainly, we need to boil the uncooked white rice in chicken broth. And adding other ingredients will bring out a beautiful rice dish. So, what type of rice should we use? Using brown rice can bring out a nutty flavor. But the rice is already going to become flavorful. That's why we need something that doesn't add extra aroma or flavors. We will use white rice to bring depth in flavors from the seasonings. Avoid medium or short grain rice because they tend to get sticky. 
There's another thing you may wonder – whether you can cook this dish in a rice cooker or not. It's better to avoid that idea because we are working with chicken broth. If it were water, the rice cooker would have produced better results. Furthermore, you have to constantly check whether the rice is cooking or not. Stirring is the key to get a perfect bowl of flavorful rice. 
Follow our instructions and you can pull off a stunner in the kitchen. But first, Let's jump to the ingredient list first. 
Ingredients We Will Need
White Rice: Wash 2 cups of uncooked white rice first. We don't need any extra flavors seeping out of the rice. Once we add all the ingredients, the white rice will soak up all the flavors and aroma. Make sure you buy long-grain white rice for this dish. 
Unsalted Butter: We want a natural flavor coming through our rice. There's nothing better than using unsalted butter to gain complete control over whatever we cook. We have to prepare ½ cup of unsalted butter for our rice. Usually, 1 stick is enough for cooking rice. 
Chicken Stock: Instead of water, we will add 4 cups of chicken stock. Just as we said, we are not using any fancy ingredients for this dish. That's why the chicken stock will complement by delivering great flavors. 
Soy Sauce: Before you use soy sauce, make sure there's low sodium in it. Otherwise, our rice will become salty. You can get generous while using soy sauce. We need to keep ½ cup of soy sauce for the flavored rice. 
Parsley: Finely chop 1 cup of Parsley. Fresh Parsley will add an earthy flavor to our rice dish. 
Ground Cayenne Pepper: We need 1 tablespoon of ground cayenne pepper. On the other hand, you can add 3 tablespoons if you want. The sweet, spicy heat is what we want for the Texas-style rice. 
Garlic Powder: The garlic powder will disperse complex flavors and aroma in our rice dish. While cooking, we will add 1 tablespoon of it. 
Paprika: Flavored rice is better without plenty of spices. But you want a slight red color and spicy aroma from the rice. That's why we will add 1 tablespoon of paprika to our dish. 
Large Onion: Lightly dice 1 large onion for this dish. The onion will deliver a sweeter taste to our flavored rice. 
Pepper: Add pepper to taste as the rice seasoning.
Salt: Use salt as per the taste demands. 
Step by Step Instructions
Step 1: First, use a large skillet to melt butter over medium heat. 
Step 2: Now, add the washed white rice to the butter and cook the rice for seven minutes. Make sure you stir the rice – from time to time – until you get an even brown color. 
Step 3: Then, throw in the diced onions. Cook for a couple of minutes. 
Step 4: Add the paprika, salt, pepper, garlic powder, parsley, and stir well. 
Step 5: Finally, add the chicken broth and soy sauce. 
Step 6: Bring the rice to a boil for 5 minutes.
Step 7: Adjust the heat to low. Let the rice simmer for 15 minutes. Check whether the rice is soft or not. 
Step 8: Serve the rice hot.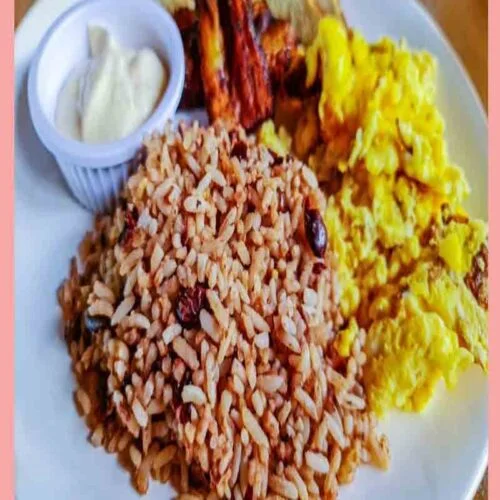 Cheddar Rice Recipe
We have a delicious Cheddar Rice recipe. It's a better version of flavored rice that matches any dish.
Print
Pin
Ingredients
2

Cup

Uncooked White Rice

1/2

Cup

Unsalted Butter

4

Cup

Chicken Stock

1/2

Cup

Soy Sauce

1

Cup

Parsley

3

tbsp

Ground Cayenne Pepper

1

tbsp

Garlic Powder

1

tbsp

Paprika

1

Large

Onion

Pepper

(To Taste)

Salt

(To Taste)
Instructions
Melt unsalted butter in a large skillet over medium heat

Add the rice to the butter and cook for 7 minutes

Then, add the diced white onion and cook for 2 minutes

Combine all the other ingredients

Finally, add the chicken broth and soy sauce

Boil the rice for 5 minutes and then, adjust the heat to low – let it simmer for 15 minutes.
Tips
You can thaw rice overnight in the refrigerator. 

When you are reheating the rice, you have to make sure the rice is piping hot all over the pot. 

After cooking, you can refrigerate the rice for four days. However, we need to be very careful before refrigerating the rice. It's because rice tends to go to waste quickly.
Nutrition
Nutrition Facts
Cheddar Rice Recipe
Amount per Serving
% Daily Value*
* Percent Daily Values are based on a 2000 calorie diet.
Wrapping Up
The seasoned rice recipe for fish is a delicious yet cost-efficient dish. We wanted to introduce a copycat version of the Cheddar's seasoned rice. So, no more heavy-lifting or going through the traffic anymore. Prepare the dish at home. Bon appetit!
You May Also Like:
Cheddars Red Beans and Rice Recipe