Dessert pizzas are the sweet version of pizzas rather than spicy toppings. There are several mouth watering pizzas at Citi's Pizza to pick from! They provide deep dish pizzas, loaded crusts, and flatbread pizzas in a variety of flavors. But their dessert pizzas, like the Bavarian cream pizza and Apple cinnamon, continue to be the most recognizable item on their menu.
These "pizzas" are topped with a variety of sweet toppings rather than meat and vegetables. We're remaking a classic that we're sure everyone still misses for our Cici's dessert pizza rip-off recipe: Cici's chocolate-flavored dessert pizza. This dessert pizza has a sweet chocolate pudding sauce and a handcrafted sugar crumble topping that make it taste just as delicious as their other dessert pizzas.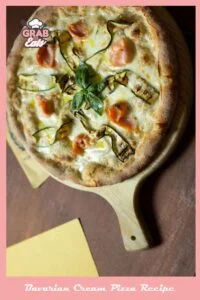 Know about the Ingredients for Cici's Bavarian Cream Pizza Recipe
Here are the ingredients which we need to make this custard dessert pizza. These are so easy to find on your nearest shop. So make your list and buy all ingredients according to the following and make your pizza at your home
Pizza dough: Here we are using pre-made pizza dough for our Bavarian cream pizza. About 340 gm. of dough we are using here.
Pudding mix: It's a readymade mix for making pudding. Which flavored, you can use any flavor you want. Here we are using 1/3 cups of chocolate one for our recipe
All-purpose flour: it's a very well-known ingredient in baked dishes. We are using ½ cup of all-purpose flour for our dish.
Butter: we are using 4 tbsp of chilled, unsalted and cubed butter here in our recipe.
Granulated sugar:  granulated sugar is the white sugar which is also known as regular sugar. Here we are using 2 tbsp of granulated sugar for our recipe
Brown sugar: it's the unrefined sugar which contains more nutrients than regular one. It is brown in color. We are using ½ tbsp. of brown sugar here.
Salt: Pinch of salt as per taste should be used.
Methods of Preparing Bavarian Cream Pizza Recipe Step by Step
Step 1: At first Cooking spray should be used to oil a 12-inch pizza pan while your oven is preheated to 430 degrees F.
Step 2: Now follow the package instructions while preparing flavoring pudding mix. Place aside. 
Here we followed the instructions on the carton and poured 2 cups of milk into our pudding.
Step 3: Then Stirring constantly while heating the liquid over medium heat will cause it to thicken.
Step 4: Now make your crumbs for the topping. In a mixing dish, combine the flour, both types of sugars and salt together and mix well.
Step 5: Now add the melted butter. Use your hands to incorporate the butter into the flour mixture until it resembles coarse crumbs. Place aside.
Step 6: Now Flour your workspace before you begin to make your pizza dough. 
Step 7: When the dough is about 3 cm thick then roll it out into a circle. Transfer the dough to the pizza pan which you have greased.
Step 8: Now With a fork, ding the dough. Bake it for about 12 minutes approximately
Step 9: Back in the oven for another 18 to 20 minutes of baking.
Step 10:  After baking, allow it to cool briefly. Make appropriate portions and serve.
Sweet Cheese Pizza Recipe Step by Step
If you are thinking of sweet cheese pizza, honey cheese pizza can be the best option . Here are the ingredients and step by step methods you need to follow to make a sweet cheese pizza at your home.
Ingredients:
340gms pizza dough, ore made
1 cup of Mozzarella cheese
1 cup of Fontina cheese
½ cup ricotta
Honey
pepper
Step 1: First take a 12 inches pizza pan and grease it with oil spray
Step 2: Make your pizza dough 3cm thick and place on the pizza pan
Step 3: Bake the dough in a preheated oven at 430 degrees F about 12 minutes
Step 4; now add 1 cup of shredded mozzarella cheese and fontina cheese each on top of the baked dough, followed by around a ½ cup of ricotta in dollops.
Step 5: When the cheese is melted and the crust is golden, bake the pizza for about 15 minutes. 
Step 6: Let it cool. Now add honey and pepper top off the pizza
Step 7: Slice and serve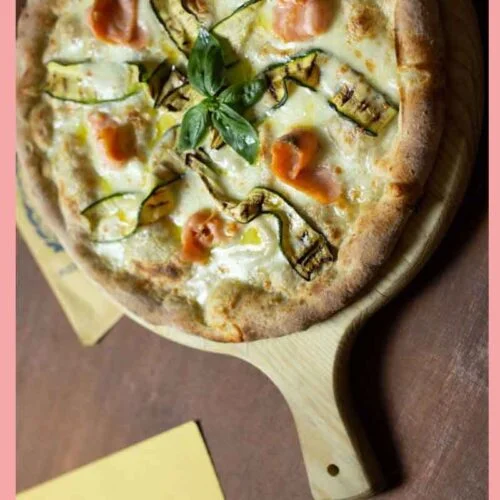 Bavarian Cream Pizza Recipe
Check out this delicious Bavarian cream pizza Recipe which is absolutely easy. Follow our methods and try it in your kitchen.
Print
Pin
Ingredients
340

G

Pizza Dough

Pre-made

1/3

Cup

Chocolate Flavored Pudding Mix

1/2

Cup

All-purpose Flour

4

Tbsp

 Chilled, Cubed and Unsalted Butter

2

Tbsp

Granulated Sugar

1/2

Tbsp

 Brown Sugar

 Pinch of Salt

All-purpose Flour, for Dusting
Instructions
Preheat the oven at 430 degrees f and spray oil to the pizza pan to grease

Make the pudding according to the package instruction

Make the top crumb combing both sugars and unsalted butter

Now make the pizza dough about 3cm thick and and place it on the pan, then bake it for 12 minutes approximately

Then remove the pan and spread your pudding and crumbs topping over the baked dough

Now bake it for 18-20 minutes more
Nutrition
Nutrition Facts
Bavarian Cream Pizza Recipe
Amount per Serving
% Daily Value*
* Percent Daily Values are based on a 2000 calorie diet.
Wrapping Up
This Bavarian cream pizza recipe is a super tasty and unique recipe and not so hard to make. So try it at your home and get the delicious taste. The above-mentioned recipes are great for family get-togethers and any parties. Enjoy your cooking experience!
You May Also Like:
Jimmy Buff's Pizza Bread Recipe