To Americans, Applebee's Zombie Drink Recipe isn't something new. I guess most of you have tried this tipsy zombie drink at cafes or bars. But have you ever thought of making it at home?
Well, I tried a few days back. And surprisingly, I succeeded. It wasn't a very big deal. Thus, I think you all can do the same. So, here is the deal. I'm guiding on how to prepare applebees tipsy zombie drinks. Actually,I'm not sharing the exact recipe but the way how I succeeded the stuff that you get in the drinks bars. 
Applebee's Halloween Drinks Recipe:
I don't know whether this one is authentic or not, but all my friends have praised this homemade zombie drink a lot. One of my friends who is actually a food critic has complimented, the drink is more or less the original. 
However, you will only need a huge collection of fruit juice and alcoholic beverages like rum, brandy, etc. 
Here I have used white rum, dark rum, 151-proof rum, apricot brandy, and different types of juice. Out them all in the cocktail share. This is a must item and without it the taste won't ever be the same. 
Well, reserve 151-proof rum for later. Basically, I have tried to blow up the exact color that I got from my nearest bar. So, I continue pouring whatever it takes to have the exact same color in my drink.
Essentials that we used:
Cocktail Shaker
Hurricane Glass
Applebees Tipsy Zombie Ingredients that You will Need are:
1 Oz. of White Rum
1 Oz. of Dark Rum
1 Oz. of Apricot Brandy
1 Oz. of Papaya Juice
1 Oz. of Golden Rum
1 Oz. of Pineapple Juice
½ Oz. of 151-Proof Rum
1 Dash of Grenadine
How to Make Applebee'S Dracula Juice Step by Step: 
Step 1: Bring out a cocktail shaker and pour 1 oz. of dark rum, 1 oz. of apricot brandy, 1 oz. of papaya juice, 1 oz. of golden rum, 1 dash of grenadine, and 1 oz. of pineapple juice.
Step 2: Shake the liquid ingredients for 30 seconds in the cocktail shaker.
Step 3: Take out a hurricane glass and pour the mixture into it.
Step 4: Like a topping pour 151-proof rum on the top of the tipsy zombie drink.
Garnish with whatever fruit you like. My top suggestions are lime slice, orange slice, a cherry, or a slice of pineapple.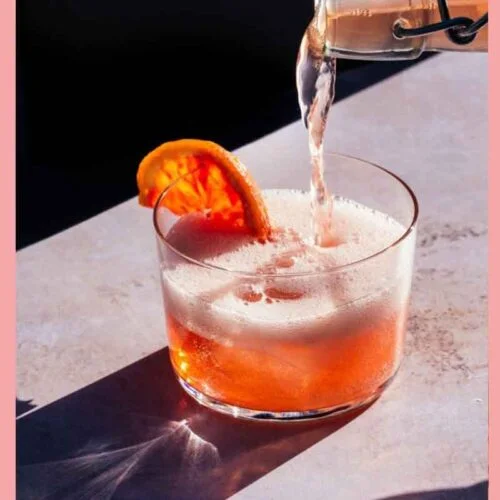 Applebee's Zombie Drink Recipe
The Applebee's Zombie Drink Recipe is a combination of fruit juice and rum that will give you refreshed boozy feelings. Make it at home and you will surely love it!
Print
Pin
Ingredients
1

oz

white rum

1

oz

dark rum

1

oz

Apricot brandy

1

oz

Papaya juice

1

oz

Golden rum

1

oz

Pineapple juice

½

oz

151-proof rum

1

dash

Grenadine
Instructions
In a cocktail shaker, shake white rum, dark rum, golden rum, brandy, fruit juices, and grenadine.

Pour the mixture in a hurricane glass.

Top with 151-proof rum and garnish with your favorite fruits.
Nutrition
Nutrition Facts
Applebee's Zombie Drink Recipe
Amount per Serving
% Daily Value*
* Percent Daily Values are based on a 2000 calorie diet.
Variations:
This recipe has a lot of variations. You can't screw up with this drink as it is a very flexible drink. For the last few days I got so addicted to exploring this recipe and here I have some amazing results. 
If you add 1 oz. of lime juice instead of papaya juice, it will give a very nice tart flavor. 
If you add 1 oz. of orange juice, it will be comparatively sweet and give you an orangy odor sometimes. 
In the case of triple sec the result is pretty same like orange juice but i think the color is brighter. 
I love this variation so much. Adding cherry liqueur with any of the fruit juice, makes the drink smooth and enriched flavor. 
This is my least favorite but it is a good variation for whoever wants to enjoy the tart and tangy flavor from your drink. Add 1 oz.
of sour mix and you will get the result.
Conclusion:
Using these recipes, you can easily make these drinks so that you can enjoy yourself and serve them to others. They are suitable for all Halloween events and parties, including barbecues. It might be worth trying them out first before serving them to others.
If you follow the recipe, you will surely succeed, cause there is no rocket science in this recipe. However, if you want to prepare in a bulk amount, just adjust the amount.