Corn is my go-to comfort food. When I'm walking through the road and just want to munch on something, I'll fetch sweet corn. It's packed with flavors and nutrients all at once. Sweet corn can be used as a side dish or directly added to a main dish. For example, I love a burrito with corn in it. Corn will also taste good in soups, and it just adds an extra boost of flavor.
Most importantly, sweet corn is much better than ravishing on a chip or chocolate. The crunch of the corn and the flavor are very enriching. But with that said, have you heard of the sweet corn frozen recipe?
Technically, freezer sweet corn is something that my family used to make. However, I found a recipe that tops my mother's. And thus, we are here to share my wisdom. Freezing the sweet corn for later use can keep up the integrity of the corn and can be used for different main dishes.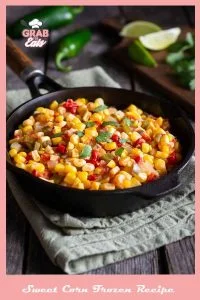 Know About the Sweet Corn Frozen Recipe Ingredients
The sweet corn frozen recipe is a way of storing the cooked corn in your freezer. This is more like meal prep. There are a few steps to follow, and we suggest you go through each to make your corn last all winter. Here are all the things you need to make freezer sweet corn.
Ingredients  
Corn Cobs or Corn Kernels: If you want to preserve the sweet corn, then we suggest using fresh corn cobs. These are relatively cheap, and you can buy them in the dozens. You just have to strip the corn from the cob and use it to make sweet corn. 4 cups of corn are used here. You can also use canned corn here.
Butter: If you want to freeze the sweet corn with butter, then add butter to the recipe. Make sure to use an adequate amount of butter to prevent the corn from turning greasy. With the buttered frozen corn, they will not freeze like a hard object. You can easily separate the corn from the fridge. 1 tablespoon of butter is used here.
Sugar: Using a small amount of sugar with the frozen corn will add to the taste. It also makes it ready to use. You can use brown sugar if you want a healthy alternative. 2 teaspoons of sugar are used for the sweet corn frozen recipe.
Salt: Adding salt to sweet corn will balance out the flavors of the corn.
Water: Water is used to boil the corn, and it will cook and help preserve the integrity of the corn. Both hot and cold water are used during the sweet corn frozen recipe. 1 cup of water is used for blanching the corn.
Blanching Of the Corn
Blanching is a technique that has been used to preserve vegetables. The initial term would include a halfway process. First, the vegetables are cooked halfway through with boiled water. Thus, they are tender but not cooked all the way through. Then they are put in frozen water to stop cooking.
The corn is first boiled and then put in frozen water. This is the blanching process. The frozen water stops the corn from being further cooked.
How To Make Freezer Corn?
To freeze the sweet corn, you can go through two different processes. The first step would be to blanch the corn; for the next part, you have to sauté the corn with sugar and butter. The recipe includes only a few ingredients, but it's important that you do each step to freeze your corn for days to come. Here we are including a step-by-step guide to freezing your sweet corn.
Step 1
Put your corn in hot water and let it simmer for 4 minutes. Stir your corn occasionally.
Step 2
Add butter and salt to the corn and keep stirring it.
Step 3
Drain the hot water from your corn and transfer it immediately to frozen water. Add some ice cubes to the cold water. Thus, the blanching process is complete. Keep it in the freezing water for 4 minutes.
Step 4
Freeze the corn in a zip-lock bag or jar.
How To Freeze Sweet Corn with Butter?
To make the sweet corn with butter, boiling it is not required. Here, you'll be freezing the corn straight from the pan. This process is perfect when you are using corn kernels from a can. This helps keep the sweet corn ready to be used in a meal. This is basically meal prep. Here is the easiest way to make freezer sweet corn with butter:
Step 1
Now drain the water from the can and add the corn to a pan. Add the butter and salt to it.
Step 2
Stir the corn properly and make sure the butter has coated all of the corn properly.
Step 3
Cool down the corn and put it in a jar to freeze them up. Or you can serve the sweet corn immediately. If you're serving it straight from the pan, sprinkle some salt over it.
To freeze the sweet corn with butter, you need to cool the corn quickly. Then put them in a zip-lock bag or jar and place them in the freezer. Use a tag with a date and information on the front so you know when you made it.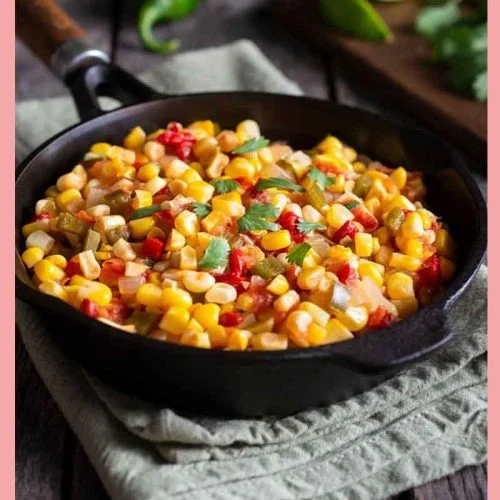 Sweet Corn Frozen Recipe- A Frozen Appetizer
The Sweet Corn Frozen Recipe Is Easy To Follow. You Can Add Butter And Spice For Taste.
Print
Pin
Ingredients
4

Cups

Corn

1

Tbsp

Butter

1

Cup

Water

2

Tsp

Sugar

A

Pinch

Salt
Instructions
Blanching process: You can boil the water, butter, sugar, and corn in a pan. Then transfer it to cold water.

Sweet corn with butter: You can take the corn kernels in a pan and add butter and sugar to sauté the corn.
Tips
Here we include some tips to make the sweet corn frozen recipe easy.
To sauté the corn with butter, use a skillet.

Make the frozen sweet corn in small batches.

Don't add salt until serving. Otherwise, salt will dehydrate the corn.

You can add pepper if you want a hint of spice.
Nutrition
Nutrition Facts
Sweet Corn Frozen Recipe- A Frozen Appetizer
Amount per Serving
% Daily Value*
* Percent Daily Values are based on a 2000 calorie diet.
Sum Up
Sweet corn frozen recipe can be made from a cob of corn or with a can of corn. Well, you are making frozen sweet corn with corn. But with this recipe, you'll be able to use the latter for different dishes. You can just take up the jar and pour the corn into your dish. These corns are cooked and ready to use. And That's why freezing sweet corn with cream and butter is my favorite thing to make, as I love corn in almost everything. 
Read More: