Hardees Mushroom Swiss Burger Sauce Recipe is one of Hardee's oldest and most traditional burger recipes. Its sauce is a delicious mix of creamy soft mushrooms that, when topped with finely sliced quality Swiss cheese, the combination is truly one of the most unique and tastiest burgers on the market.
Because of the combination of mushrooms and Swiss cheese, the Mushroom N' Swiss burger at Hardee has always been considered the restaurant chain's "star burger." It had been the burger of choice for all generations, and they appreciated the one-of-a-kind flavour profile of their first recipe.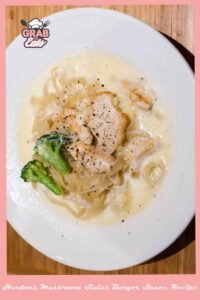 Know About Your Ingredients:  
Red onion: ½ cup red onions, minced. Onions give dishes a rich umami flavour and a subtle sweetness. 
Mushroom: 8 oz. mushrooms of choice (2 packages), sliced, chopped, and divided. Mushrooms are an excellent source of protein, dietary fibre, and antioxidants.
Mushroom cream: 10 oz cream of mushroom(1 can).
Worcestershire sauce: 1 tsp. Worcestershire sauce. It is sour from tamarind and vinegar, sweet from molasses and sugar, and spicy.
Swiss cheese: 1 cup grated Swiss cheese. It is a good source of protein and calcium.
Beef: 1¼ lb ground beef. It has a lot of healthy nutrients, including protein, vitamins, and minerals.
MSG: 1 tbsp MSG, accent or any flavour enhancer.
Garlic salt: 1 tsp. garlic salt. Garlic salt is crushed garlic mixed with salt.
Black pepper: 1 tsp. ground black pepper. Black pepper makes food taste richer and spicier.
Olive oil: 2 tbsp olive oil. Olive oil adds flavour and texture to sauces and marinades without adding calories or saturated fat.
Red wine: ¼ cup red wine. Red wine is made from purple, black, blue, and other dark-skinned grapes.
Salt: ¼ tsp salt. The flavour of salt is neutral, but it also helps to bring out the aroma of other ingredients.
Buns: 5-hamburger-buns.
Potato fries: Potato fries for sides. 
How to Make Mushroom and Swiss Burger Sauce?
Step 1: In heated oil, onions must be sautéed till translucent. Add 1 package, or 8 ounces, of mushrooms and saute briefly.
Step 2: Deglaze with red wine and reduce briefly. Add salt and pepper, then adjust the seasoning. Leave the mushrooms aside until they are improbable.
Step 3: Combine the mushroom soup, the last package of mushrooms, 8 ounces, and the Worcestershire sauce. Put it on a simmer and let it cook for a bit.
Step 4: Preheat your flat griddle and grease it accordingly.
Step 5: Mix the MSG, flavour enhancer, garlic salt, and ground pepper in another bowl. Set aside.
Step 6: Mix the cooled mushrooms with the ground meat until everything is evenly distributed. Try and add 1 tablespoon of your favourite seasoning blend.
Step 7: To make hamburger patties, portion 6 ounces of ground beef into balls and form them into balls. Wrapping the patties in plastic wrap will help them maintain their shape.
Step 8: Grill your patties and season both sides with the seasoning mix. Toast your hamburger buns on the grill.
Step 9: Cover the burger with the top bread and 1 tablespoon of the mushroom mixture. Do the same with the remaining patties.
Step 10: One cup of potato fries should be served beside the burger.
Creamy Mushroom Burger Sauce
This creamy mushroom sauce is excellent for topping pasta, steak, mashed potatoes, omelettes, or as a dipping sauce for a crusty baguette. Sour cream gives the sauce just the right amount of tang and creaminess and makes the sauce thicker.
Know About Your Ingredients:  
1 lb white or brown mushrooms
1/2 cup yellow onion
2-3 cloves of garlic, minced
4 tbsp oil or butter
1/2 cup white wine (or broth if not used)
1 cup heavy cream
1/2 cup sour cream
Half a teaspoon of kosher salt (less if using table salt)
2 tbsp. chopped parsley (optional)
2 tbsp. chopped dill (optional)
1/2 tsp coarsely ground black pepper
1/4 cup of Parmesan cheese gratings (optional but recommended)
How to Make Creamy Mushroom Burger Sauce?
Step 1: Wipe 1 lb of mushrooms with a moist paper towel. Make thick slices of them. Peel a half cup of yellow onion and cut it into small pieces.
Step 2:  Chop the 2 tablespoons of parsley and dill if you're using them.
Step 3: In a huge saucepan, heat 4 tablespoons of oil or butter; add onions and cook on medium heat, constantly turning, until browned and transparent. Spoon the onions into a bowl.
Step 4: Heat the remaining oil or butter until it's practically smoking in a saucepan. Stir often to brown the mushrooms. Continue cooking until it dries, then fry the mushrooms.
Step 5: Put in a half cup of white wine and sauté the pan by stirring the mushrooms while scraping the bottom. Most of the wine should have drained after 2 minutes.
Step 6: Add the sauteed onion, 1 cup heavy cream, 1/2 cup sour cream, 1 1/2 tsp salt, 1/2 tsp pepper, 2-3 chopped garlic cloves, and 1/4 cup grated cheese to the mushrooms (if using). Cook until the sauce thickens. If the sauce is too thin, add broth or water and mix.
Step 7: If using, finish the sauce by stirring in 2 tbsp of parsley and 2 tbsp of dill.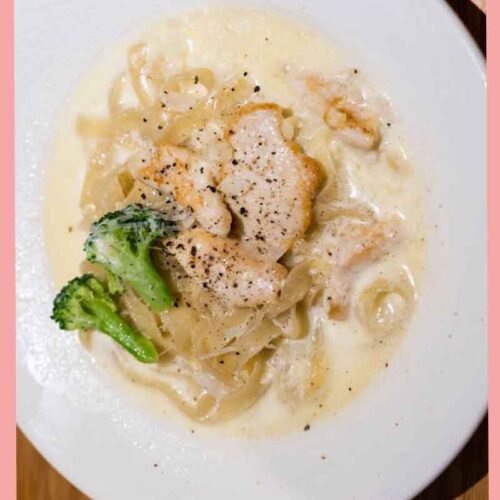 Hardees Mushroom Swiss Burger Sauce Recipe
The Hardees Mushroom Swiss Burger Sauce Recipe is a classic recipe. It is topped with thin slices of good Swiss cheese and has a delicious sauce made of soft, creamy mushrooms.
Print
Pin
Ingredients
1/2

cup

Red onions

10

oz.

Mushroom soup

8

oz.

Mushrooms of choice (2 packages), cut, diced, and divided

1

tbsp

Worcestershire sauce

1

cup

Sliced Swiss cheese

1¼

lb

Ground beef

1

tbsp

MSG

1

tbsp

Garlic salt

1

tbsp

Ground black pepper

2

tbsp

Olive oil

1/4

cup

Red wine

1

tbsp

Salt

5

Hamburger buns

Potato fries for sides
Instructions
Medium-heat oil in a sauté pan. Cook fresh mushrooms until tender. Add Worcestershire sauce and butter to the sautéed mushrooms. Add 1/2 a can of mushroom soup, stir, and simmer.

It's grill time. Gas grills should be set to medium-high. Grilling is great for burgers.

Mix pepper, salt, garlic, and 1 tbsp Worcestershire sauce into room-temperature beef. Separate into six balls. Make 1/4-lb patties and grill them. Prepare to taste.

After cooking the burgers, add Swiss cheese and close the grill for 15-30 seconds. When cheese melts, place the burger on bun and top with mushroom sauce.
Nutrition
Nutrition Facts
Hardees Mushroom Swiss Burger Sauce Recipe
Amount per Serving
% Daily Value*
* Percent Daily Values are based on a 2000 calorie diet.
Final words: 
Swiss cheese is mild and sweet, making it an excellent choice for a hot plate of hamburgers. Using this recipe, you can make a burger similar to Hardee's, known for its use of mushrooms and Swiss cheese. It's simple and easy.
Try this dish at home for a ravishing snack. It'll be the best mushroom and Swiss burger you've ever had if you eat it for lunch or dinner.
You May Also Like: