Lasagna is a great dish for a dinner. It's usually an Italian dish but the American lasagna is a crowning glories for American dinner table. The layers of pasta/noodles sauce and cheese in this lidia bastianich lasagna recipe comes together in mot to give an explosion of flavors that all pasta lover usually love to taste this Italian dish. You can use it either as the main course in family dinner or in parties.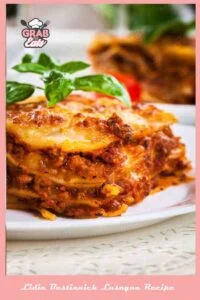 Know about your recipe and ingredients 
You will need the following ingredients to cook your home made lasagna, after collecting all off these you can start the cooking process: 
Extra-virgin olive oil: 3 tablespoons of olive oil will be needed for cooking and balancing the spices.
Garlic: Here you will need 6 cloves of garlic, cloves need to be peeled and sliced finely. It provides you a very beautiful odor in your recipe. 
Pepperoncino flake: Pinch of pepperoncino will need for sizzling surely will enhance your recipe.
San marzano tomatoes:  28-ounce (about 2) whole tomato can and nicely crushed by hand will be needed for sauce.
Salt: Pinch of salt according to one's taste need to add for seasoning.
Fresh basil leaf: You will need 2 large sprigs of basil leaf. This will add the flavor to the sauce.
Heavy cream: 1cup of heavy cream will help to thick the consistency of the sauce.
Grana padano: 2½ cups freshly grated Grana padano chees for layering. 
How to make American lasagna:
Lasagna is an easy to make dish and the ingredients for making lasagna is easy to find to your nearest grocery shop. It's dosent take an over-night to prepare and cook lasagna but with around two hours you can prepare this amazing dish by following some easy steps as sauce making, layering the lasagna and baking. With the following ingredients and instructions you can prepare a perfect and delicious homemade lasagna noodles.
Ingredients for lasagna: 
15 sheets of no boil lasagna noodles
1 cup of Low-moisture mozzarella cheese, finely grated 
2 ½ cups of Grana Padano cheese, freshly grated
1 cup of heavy cream 
A pinch of salt
A pinch of pepperoncino flake 
3 tablespoons of extra virgin olive oil
6 cloves of garlic, finely crushed 
2 large sprigs of basil leaf
28 ounces tomatoes
Step by Step Instructions for home-made Lasagna by Lidia's Recipe:
For the sauce
Step 1: At the very first of the procedure all you have to do is, Heat a large oven over medium heat as 350 degrees F, and add some extra virgin olive oil.
Step 2: When the oil is heated enough, you have to add 6cloves of garlic, let the oil sizzle until it become golden in color, it will take about 1 minute. 
Step 3: Add a pinch of pepperoncino in the sizzled oil.
Step 4: Add your crushed tomatoes.
Step 5: Add 2 cups water following the procedure, you can rinse out the can of tomato with water and add that water in the pan.
Step 6: Now add salt according to your taste and season your sauce and put the basil sprigs in the sauce.
Step 7: Cook gently until the sauce is slightly thickened and you can smell the flavor, it will take about 20 minutes. 
Step 8: Remove the basil leaves and then add the heavy cream to the mix. Gently cook your sauce until the all ingredients of the sauce comes together, it will take almost 3 to 5 minutes.
Step 9: Season the sauce again with salt and pepperoncino. 
To assemble the lasagna 
Step 1: At the very first of the procedure you have to take a 9/3 inch baking dish to bake your lasagna
Step 2: Pre heat your oven at high heat as 400 degrees F.
Step 3: In the bottom of a 9-by-13-inch baking dish spread a cup of sauce you have prepared for your lasagna. 
Step 4: Now cover the layer of your sauce with three sheets of the noodles.
Step 5: Spread another cup of sauce over the noodles
Step 6: Now make a smear of chees by sprinkling 1 cup mozzarella and ½ cup Grana Padano.
Step 7: Cover the chees layer with another layer of noodles.
Step 8: Continue layering with sauce, mozzarella, and Grana Padano, in the same manner, until you add up to fifth layer of noodles. 
Step 9: At the top layer coat it just with sauce and grated Grana Padano.
Baking of lasagna
Step 1: Cover your layered lasagna with foil properly
Step 2: Place the tented lasagna on a baking sheet to catch any drips.
Step 3: Bake the well covered lasagna until the edges of the lasagna are bubbling, it will take about 30 to 35 minutes. 
Step 4: Now remove the foil and uncover the lasagna and bake again until the top is look browned and crusty, it will take about 20 to 30 minutes more.
Step 5: Now Left the lasagna to rest out of the oven for at least 30 minute.
Step 6: Rest it for at least 15 minutes
Now slice and serve your own homemade Lidia bastianich lasagna.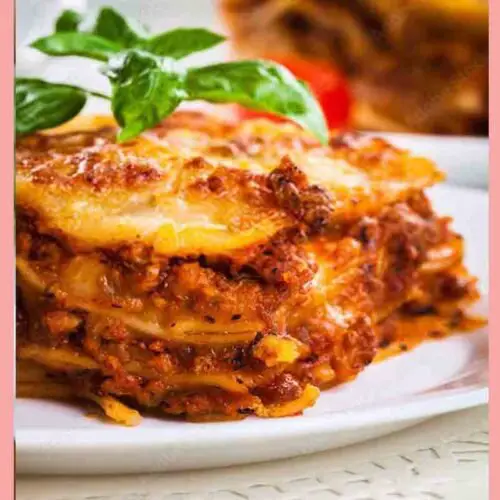 Lidia Bastianich Lasagna Recipe
Lidia bastianich lasagna recipe is a great choice for a main course in any event. If you're looking for authentic recipes, look here
Print
Pin
Ingredients
Sirloin Tip Meat

Olive Oil

Garlic Powder

Cracked Paper

Rosemary

Onion

Salt
Instructions
Preheat the oven to 350 degrees Fahrenheit

Prepare your sauce with cream, tomato, salt, water, basil spring and pepperoncino

After that, Make your lasagna layer spreading sauce at the bottom then lasagna noodles then chess and repeating the sequence up to 5th layer of noodles

Tent the lasagna with foil and bake it on a preheated oven at 400degrees F for 30n minutes

Remove the cover and bake it for another 30 minutes
Tips
How to cut lasagna:

the best way to cut a lasagna in square shape with a sharp knife

If lasagna has been refrigerated, bake it for 45 minutes.

there will be extra space around the layer of noodles and that's okay cause they will expand as they absorb the sauce
Nutrition
Nutrition Facts
Lidia Bastianich Lasagna Recipe
Amount per Serving
% Daily Value*
* Percent Daily Values are based on a 2000 calorie diet.
Wrapping Up
This is a super easy recipe for Lidia's bastianich lasagna recipe and you will definitely be amazed with the result of this recipe if you try it at home. Must try this out and enjoy Lasagna with your friends and family.