It's normal to be thirsty for cold drinks on the hot summer days. If you want a non-alcoholic drink, try the pina colada in Bahama Breeze. The pina colada is a fruity healthy drink perfect for everyone. 
If you have no Bahama Breeze nearby, check out our Bahama Breeze ultimate pina colada recipe guide. It's a sugar-controlled drink made of pineapple. 
Bahama Breeze is a Caribbean cuisine-based restaurant chain in America. Usually, it offers all the delectable seafood, steak, chicken, and all the tropical drinks. This restaurant is a great place to introduce you to different unique food items.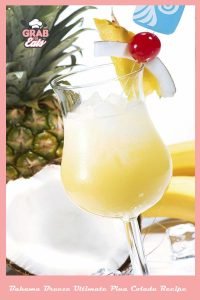 Bahama Breeze Ultimate Pina Colada Ingredients
Make your pina colada with the following ingredients- 
Ripe Pineapple (1)
Depending on how many servings you make, take the number of pineapples. 1 pineapple can make 2 servings. We'll make the pina colada for 2 servings. Thus, we need only 1 ripe pineapple. Peel the pineapple and chop it into small pieces. Refrigerate the chopped pieces for 10 minutes.
Coconut Cream (1 Cup)
To add a divine sweetness to your tropical drink, take 1 cup of coconut cream. It will thicken up the drink and give a nice texture.
Coconut Milk (¼ Cup)
You also need coconut milk to get the richness and extraordinary flavor of your pina colada. However, coconut milk requires very little amount. Take ¼ cup of this element.
White Rum (1 Cup)
We don't recommend you add rum if you want to have a non-alcoholic drink. Also, if the drink is made for kids, avoid adding rum to it. However, to make it a strong-flavored drink, you may add 1 cup of white rum. 
Ice Cubes (3 Cups)
You'll serve and enjoy this drink in the hot summer days. So, adding ice will give it a unique texture. You'll require 3 cups of ice cubes to make your pina colada.
Lime Juice (½ Cup)
Adding lime juice keeps the taste in between sweet and savory. As a result, the pina colada tastes so good and different. Therefore, take ½ cup of lime juice.
How to Make Bahama Breeze Ultimate Pina Colada?
Make the most delicious pina colada in only 2 simple steps. You need not go for baking, boiling, or cooking anything. All you need is to mix all the elements in a food processor. Check out how-
Step-1
Take your blender and put refrigerated chopped pineapple in it. Now add ice cubes, coconut milk, coconut cream, lime juice, and rum. 
Keep blending them all until smooth. Once all the ingredients are incorporated well, transfer them to a jar and refrigerate for 20 minutes.
Step-2
Your Bahama Breeze ultimate pina colada is ready. You either can serve it in a regular glass or in the cored pineapple. No difference will come in how you serve. 
But serving it in a cored pineapple makes it more attractive. Top the pina colada with cherry to make it look beautiful. 
Best Side Dishes to Serve With 
Usually, you can have this drink with no side dishes. It's a perfect drink to have after dinner, lunch, or anytime you feel thirsty. However, still, if you want a side dish to make your meal heavy, here are some of the dishes-
Jerk Chicken 
Fish Tacos
Spicy Tuna
Pasta
Corn Bread
Chicken Wings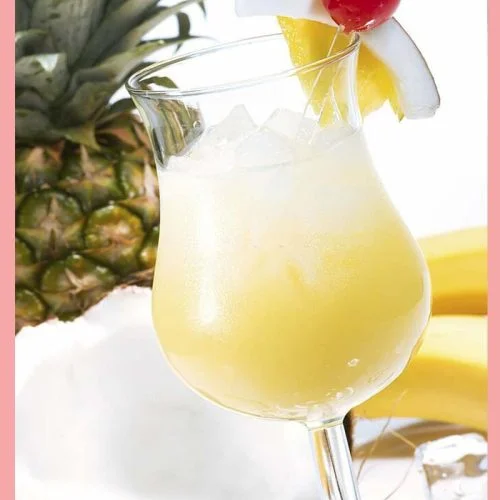 Homemade Bahama Breeze Ultimate Pina Colada Recipe
Make the hot summer days a bit more spontaneous with Bahama Breeze Pina Colada. If no Bahama Breeze nearby, make your own Bahama Breeze ultimate pina colada recipe. 
Print
Pin
Ingredients
1

Ripe Pineapple

1

Cup

Coconut Cream

¼

Cup

Coconut Milk

1

Cup

White Rum

3

Cups

Ice Cubes

½

Cup

Lime Juice
Instructions
Refrigerate the chopped pineapple for 10 minutes

Blend all the ingredients in your blender

Refrigerate the blended mixture for 20 minutes.

Your Pina Colada is ready

Top it with cherry and serve
Tips
Garnish the pina colada with fresh mint or pieces of lime

To make it thicker, add 1 cup of whipped cream

Adding apple cider vinegar will make the pina colada less sweet

You must refrigerate it for at least 10 minutes before drinking
Nutrition
Nutrition Facts
Homemade Bahama Breeze Ultimate Pina Colada Recipe
Amount per Serving
% Daily Value*
* Percent Daily Values are based on a 2000 calorie diet.
Conclusion
To get freshness and make the hot summer days less suffering, drink Bahama pina colada. It's a tasty and healthy drink item fit for all ages. If you cannot go to the Bahama Breeze, make it yourself. 
Bahama Breeze ultimate pina colada recipe requires no expensive elements. With a pineapple and coconut cream and milk, it's easy to make within minutes. Serving this unique fruity drink will bring peace on hot days. 
However, you can enjoy the pina colada of Bahama Breeze in winter as well. In this case, avoid adding ice cubes. And, don't refrigerate after blending all the ingredients. All you need is to serve directly right after blending. 
You May Also Like:
Columbia Restaurant Sangria Recipe