It's hard to compare American flour with 00 flour for making bread. Now, can you make bread using 00 flour? The answer is, yes, you can. On the other hand, 00 flour has less gluten compared to bread flour. From the outlook, you may think it's not a good choice to use 00 bread flour. But trust us, this 00 Flour bread Recipe will shock you.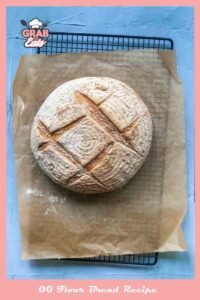 We should tell you, 00 flour is not a substitute for normal bread flour. But if you wish to try out something new and get a taste of Italian bread, you can try this recipe at home. 
Difference Between 00 Flour and Bread Flour 
If you ever visit an Italian Grocery store, you will find 0 and 00 label milled flour. Well, they are best for making pizza dough. Mainly, a combination of hard and soft wheat creates a silkier dough for pasta or pasta. 
Now, the main difference between bread flour and 00 flour is in how gluten behaves on these flours. Well, gluten in red wheat is quite strong and elastic. On the other hand, durum wheat is strong but lacks elasticity. 
Well, the biggest difference between 00 flour and bread flour is texture. Combining bread flour with 00 flour delivers a more elastic result. 
How to Make 00 Flour at Home?
In America, manufacturers classify flours according to the total amount of protein they contain. While baking, the flour will produce more gluten depending on the flour. But in Italy, the measurement is a little different. They label each type of flower based on how coarse the grind is. 
Setting all the details aside, 00 flour is the median of flours. Its grind is in between coarse and fine. On the other hand, you will find flours in Italy with a 0 label. This means the grind is particularly coarse. Now, the coarseness will impact the taste of your final bake. 
If you bake bread using 00 label bread, there won't be equally distributed air pockets. However, it's a great flour for making pizza dough, ravioli, or pasta. Not to mention, you can bake Italian bread for your breakfast. 
You can easily buy 00 label flour from your grocery store. Some manufacturers sell 00 flour that has a golden color. On the other hand, normal 00 bread flour does have a white shade. Among different types of Italian bread, this type of flour is best for Italian bread. 
We can help you with making Italian bread at home. You will notice the final bread has a different color. Also, you will notice unevenly distributed air pockets inside the bread. We can help you make the best Italian bread at home with minimum ingredients. 
How to Prepare 00 Bread Flour?
You can try out various recipes using Italian bread such as garlic bread-pasta torting, bread pudding pie, etc. But homemade 00 bread is an essential ingredient for these recipes. Preparation won't take you plenty of time – just 30 minutes at most. 
First of all, you have to collect all the ingredients. We want to keep the authentic Italian taste on our bread. So, aside from collecting dry yeast, we also need to collect Sicilian sea salt and divide them into two portions (for more info, check the ingredients chart). Plus, we have to divide the 00 flour into two separate portions. 
Also, we need extra virgin olive oil for this recipe. Preparation is quite easy, and it should not take more than half an hour. The main part is going to be baking the bread. Now, let's have a closer look at the ingredients. 
Main Ingredients for our Italian Bread
Dry Yeast: We need 1 package of dry yeast for our Italian bread. 
Sugar: We will be adding 1 tablespoon of sugar to the yeast mixture. Mainly, the yeast needs food, and the sugar will work just fine. 
Warm Water: To prepare the yeast mixture, we need 1/4 cup of warm water. 
Sicilian Sea Salt: Sicilian sea salt has undisputed properties and works fine with baked goods. We will add 1 teaspoons of Sicilian sea salt. 
00 Flour: We have to divide the 00 bread flour into two portions. First, we need 1/2 cup for the bread dough and an extra 1/4 cup for dusting. 
Extra Virgin Olive Oil: Finally, we need 2 tablespoons of imported extra virgin olive oil for the dough and another extra 1 tablespoon of olive oil for extra drizzling. 
Step by Step Instructions for Baking 00 Bread
Step 1: Preheat oven to 350 degrees Fahrenheit
Step 2: We have to prepare the yeast now. Take the 1/4 cup warm water, and add the yeast and sugar.
Step 3: Now, we will be making the Italian bread dough. Take a medium-sized bowl – combine 1/2 cup flour and 1 Tablespoon salt. Then, make a well in the center of your dough. 
Step 4: Get the yeast mixture and slowly pour the mixture into the well. Use a wooden spoon (better to use hands) until the mixture is all mixed with the dough. Stop when a sticky dough ball is formed on the bowl. 
Step 5: Then, sprinkle flour from the extra flour on top of a flat surface. Now, time to knead the dough. Add flour little by little so that you can tighten the dough. You need to ensure a taffy-like consistency on your dough. 
Step 6: Knead the dough continuously for 3 to 6 minutes. Keep kneading until the dough is smooth. After getting a smooth texture, form a ball. 
Step 7: Now, take another bowl to add 1 teaspoon extra virgin olive oil and a dough ball. Flip the dough ball so that it doesn't stick to the bowl. 
Step 8: Cover the bowl using a plastic sheet. Wait for 35 to 45 minutes and the dough will start to rise. 
Step 9: Lightly grease 1 tablespoon of extra virgin olive oil on a baking sheet. 
Step 10: Remove the risen bread dough from the bowl. Cut them according to your desired size. Finally, place the dough on the greased baking sheet. 
Step 11: Now, you have to brush the remaining olive oil over the bread dough. Again cover the dough using a plastic sheet. Let it rise for another additional 45 minutes to 1 hour. The dough will double in size. 
Step 12: Before starting your baking, make sure to cut slits on top of the dough with a knife. 
Step 13: Bake for an hour at 375 degrees Fahrenheit.
Step 14: Remove the bread from the oven and let it stand for at least 10 minutes before serving.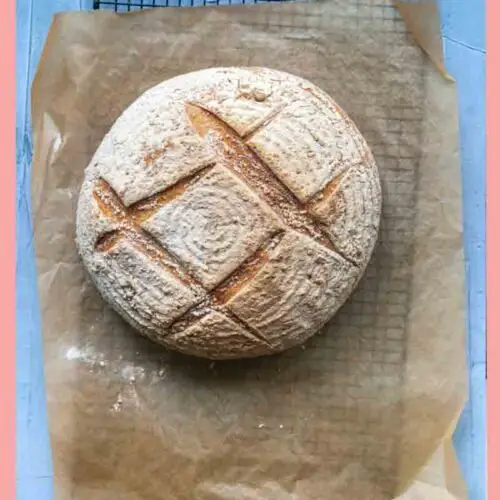 00 Flour Bread Recipe
Looking to bake 00 Flour Bread Recipe? We can help you make the best Italian Bread at home.
Print
Pin
Ingredients
1

Package

Dry Yeast

1

tbsp

Sugar

1/4

Cup

Warm Water

1

tbsp

Sicilian Sea Salt

1

Cup

Bread Flour

3

tbsp

Extra Virgin Olive Oil
Instructions
Preheat the oven to 350 degrees Fahrenheit

Mix the yeast and sugar in warm water

Combine flour and salt to make the dough – make a well at the center of your dough

Slowly pour the yeast mixture into the dough and combine it until it forms a sticky dough ball

Knead dough continuously for 3 to 6 minutes until it's smooth

Add 1 Tbsp extra virgin olive oil to the dough

Cover the dough on a bowl using a plastic wrapper and wait 35 to 45 minutes

Lightly grease a baking sheet using 1 Tbsp olive oil

Remove the risen bread dough from the bowl and cut them into desired sizes

Brush the bread dough with olive oil and cover it with a plastic wrapper. Wait for another hour

Before baking cut the slits on top of the dough

Bake the bread for an hour

Remove the bread from the oven and let it rest for 10 minutes
Tips
While kneading the dough, you should sprinkle enough flour to gain a taffy-like consistency.
Nutrition
Nutrition Facts
00 Flour Bread Recipe
Amount per Serving
% Daily Value*
* Percent Daily Values are based on a 2000 calorie diet.
Wrapping Up
Yes, it will be hard to find 00 bread flour but if you try to look in Italian Grocery stores – you may be able to find it. After that, you can try out different recipes using the bread and we just taught you how to make 00 Bread.