For cookie lovers, Wegmans Chocolate Chip Cookie Recipe is like a blessing. Classy taste of gooey, chewy cookies in the middle and crunchy on the edges, the taste is absolute whale some. It doesn't take a lot to prepare them at home. With Wegmans organic products and complete satisfaction of preparing the cookies will make your journey very special. 
I had stopped preparing cookies because of my little daughter once. She kept eating too much but after a long while from my old cookbook, I got this amazing recipe and prepared it. They turned out so good and so I couldn't stop myself from sharing the recipe with you.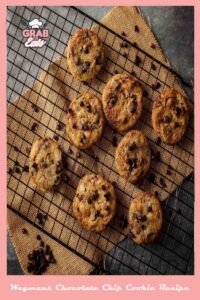 Know about Your Ingredients and Recipe
Unsalted Butter: Unsalted butter is always best for baking. It gives you to have full control over the recipe. Here, in this recipe, I'm using 1 cup of unsalted butter from Wegmans organic. I'm using ½ tbsp. of salt later. If you are using salted butter don't add the salt afterward. The reason why I love unsalted butter the most is, that it has a smooth and sweet buttery flavor.
All-purpose Flour: For the base of the cookie dough 2 cups of all-purpose flour would be enough.
Semi-Sweet Chocolate Chips: This is another base ingredient. Try to use Wegmans organic semi sweet chocolate chips cause they taste better. Measure 1 cup of semi sweet chocolate chips.
Brown Sugar: Usage of brown sugar in cookies is universal. It has a dense texture that compacts easily while creaming. One of the best part of it, you would notice while beating, it creates fewer bubbles. It makes the cookies chewy inside and tastes somehow better. Measure 1 cup of brown sugar.
Granulated Sugar: Use ½ cup of granulated sugar. The mixture of granulated sugar and brown sugar makes the cookie semi chewy.
Egg: For Wegmans cookies, I will use 1 egg and 1 egg yolk. Separate the egg yolk from the egg.
Vanilla Extract: 1 tbsp of vanilla extract enriches the flavor of these organic cookies.
Instant Espresso Powder: It is a very special ingredient to use in cookies. Instant espresso powder has a rich velvety coffee flavor that enriches the cookies. You can't find using instant coffee in other recipes. I will use only 1 tsp of this ingredient and you will see the difference of taste after preparing it.
Baking Soda: Baking soda has the leavening component that helps cookies to rise while baking. 1 tsp of baking soda would be enough for the recipe.
Cornstarch: Cornstarch creates a crumbly texture and helps to make the cookies chewy in the middle. The perfect amount would make the cookies perfectly thick and crispy in the edges. I use 2 tbsp of it.
Kosher Salt: ½ tsp of Kosher salt would enhance the sweet balance of the cookies.
Dark Chocolate Chips: I'm not sure whether the organic chocolate chip cookie recipe, uses dark chocolate chips or not. I prefer to use ½ cup of dark chocolate chips here. It tastes better while balancing with the semi-sweet chocolate chips.
How to Cook Wegmans Chocolate Chip Cookies Step by Step
Step 1: Take out a stand mixer and in the large bowl that comes with the stand mixer, add 1 cup of butter, 1 cup of brown sugar, and ½ cup of granulated sugar.
Step 2: Beat them for 1 minute or until finely combined and creamy.
Step 3: Now, one by one add egg yolk, egg, 1 tbsp of vanilla extract and beat for a few seconds to mix up.
Step 4: Add 1 tsp of instant espresso powder, 1 tsp of baking soda, 2 tsp of cornstarch, 2 cups of all purpose flour, and ½ tsp of Kosher Salt. Beat them until you get a soft dough form.  This procedure won't take more than 8 minutes to 10 minutes.
Step 5:  Add ½ cup dark chocolate chips and 1 cup of semi sweet chocolate chips. Fold them with the dough.
Step 6: Cover the mixing bowl with plastic wrap and let refrigerate for at least 2 hours.
Step 7: After that, set the oven for preheating at the temperature of 350 degrees F. Also, line a large baking sheet with parchment paper.
Step 8: Spoon drop the cookies on the prepared baking dish and place them into the preheated oven.
Step 9:  Bake for 10 minutes to 12 minutes or until the edges are soft and chewy.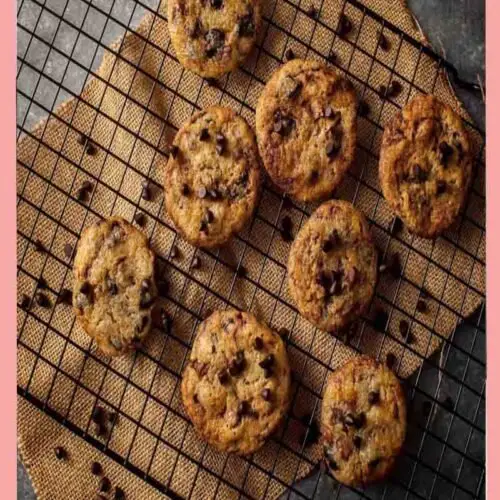 Wegmans Chocolate Chip Cookie Recipe
Enjoy amazing cookies at home with Wegmans chocolate chip cookie recipe. Simply follow the steps to bite in the perfect cookies every time.
Print
Pin
Ingredients
1

Cup

butter

1

Cup

brown sugar

1/2

Cup

Granulated sugar

2

Cup

all-purpose flour

1

Cup

semi-sweet chocolate chips

1/2

Cup

dark chocolate chips

1

Egg

1

egg yolk

Instant espresso powder

2

tbsp

cornstarch

1

tbsp

Vanilla essence

1

tbsp

Baking soda

1/2

tbsp

kosher salt
Instructions
Prepare the cookie dough with a stand mixer.

Cover and let chill for at least 2 hours.

Spoon drop cookies and bake for 10 minutes to 12 minutes.
Tips
Butter has to be softened at room temperature. If straight out of the freezer or refrigerator, must take out ahead of time. 

I recommend using 8'' scoop. If you don't have that, just use ¼ measuring cup. This will have the same result. 

Store the extra cookies in an airtight container. They would be good to eat up to 2 weeks.
Nutrition
Nutrition Facts
Wegmans Chocolate Chip Cookie Recipe
Amount per Serving
% Daily Value*
* Percent Daily Values are based on a 2000 calorie diet.
Wrapping Up
The cookies are perfect for family-time snacks and surely enrich the flavor of the gathering. Try this recipe at home apart from resting time, it doesn't take long to prepare. The step-by-step directions will lead you to the perfect cookies every time. Also, you can have substitutes as discussed. Enjoy your cooking experience and bon appetit!
You May Also Like: