The American dish Salisbury Steak Recipe with Cube Steak is typically served with gravy or brown sauce. It is made from a mixture of ground beef and other ingredients. It's a type of hamburger steak.
Salisbury steak is sometimes formed into patties and cooked on the stove. Mushrooms make gravy, which is often served with Salisbury steak. Some meatloaf recipes call for gravy or mushroom sauce, but most meatloaf is filled with a glaze of semi-sweet ketchup or tomato sauce.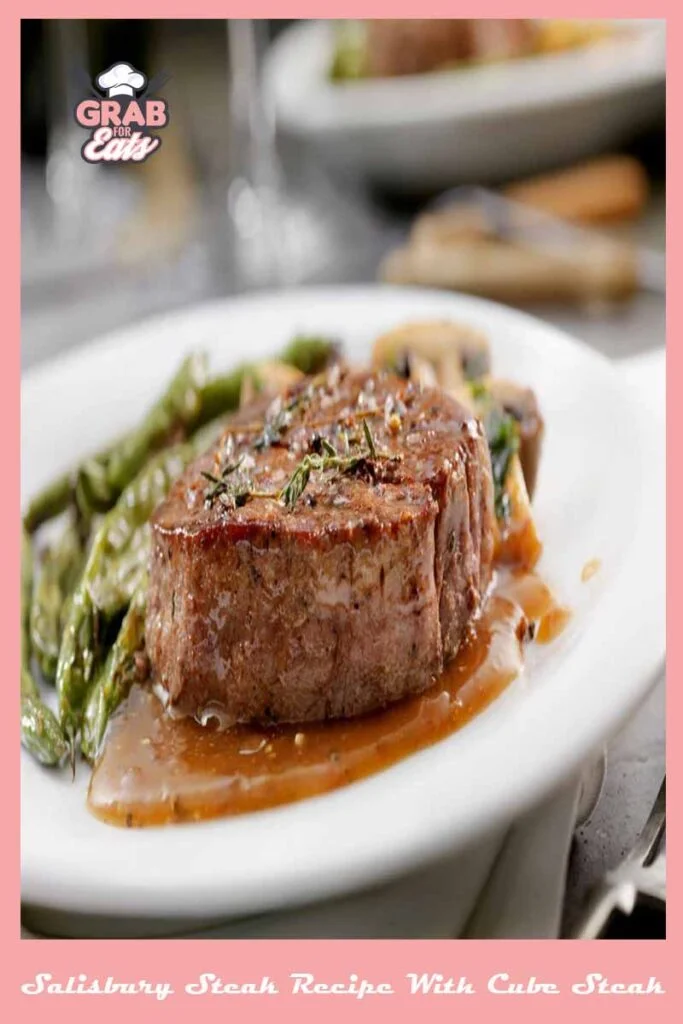 Know About Your Ingredients:
Cube steak: 1 pound of cube steak, typically top round, cut into four pieces weighing 1/4 pound each. A cube steak is a square piece of meat.
Flour: 1⁄2 cup all-purpose flour. Many different dishes can be made with flour.
Salt: 1 teaspoon of salt. Salt's neutral flavour helps bring out other flavours.
Black pepper: 1⁄2 teaspoon of freshly ground black pepper. Pepper provides flavour and spiciness.
Butter: 3 tablespoons of butter. The taste of butter is creamy, buttery, and somewhat sweet. 
Canola oil: 2 tablespoons of canola oil. Canola oil comes from the canola plant. It is a type of vegetable oil.
Onion: 1⁄2 of a medium onion, thinly sliced. Onions improve the taste of dishes without contributing many calories.
Garlic: 2 garlic cloves, mince. Garlic has antibacterial effects. 
Mushrooms: 1/2 pound of button mushrooms, stems removed and sliced thin. Mushrooms are rich in protein, fibre, and antioxidants.
Red wine: 3⁄4 cup of red wine. Red wine is prepared from dark skins like purple, black, and blue grapes.
Worcestershire sauce: 1 tablespoon of Worcestershire sauce. The flavour of Worcestershire sauce is distinctive.
Dijon mustard: 1⁄2 tablespoon of Dijon mustard. Dijon Mustard is a french condiment recognised for its strong, smooth taste and delicious tang.
Beef stock: 3⁄4 cup of beef stock. Beef stock is richer and more flavorful.
How to Make Salisbury Steak with Cube Steak?
Step 1: First, put the oven rack in the centre of the oven and preheat the oven to 250 degrees Fahrenheit.
Step 2: Meanwhile, stir flour, salt, and black pepper on a large plate. Sprinkle flour on both sides of each cube steak and shake off the excess.
Step 3: Put a tablespoon of oil and butter in the Dutch oven and heat it over medium.
Step 4:  Throw in two cube steaks after the oil has shimmered. Let it rest for four minutes per side or until golden brown.
Step 5: Transfer the cube steaks to a plate and set them aside. Repeat with the remaining two cube steaks, adding more oil and butter if necessary.
Step 6: Carefully pour out any fat left in a Dutch oven, then add the remaining butter and oil. Turn heat to medium-high, and add onion, garlic, and mushrooms when oil shimmers. Cook, frequently stirring, until the onion is caramelised, about three minutes. 
Step 7: Add wine. Using a wooden spatula, scrape up any browned bits from the bottom of the pan.
Step 8: Add Worcestershire sauce, mustard, and stock. Stir well. Add cube steaks and try to fit them as much as possible into the sauce.
Step 9: Cover the Dutch oven and place it on the lower-middle rack of the oven. Cook until tender, about 25 minutes. Serve it with mashed potatoes.
Homemade Cube Steak
Cube steak salisbury steak is a pounded beef cut, typically top round or top sirloin, to make it tender. The name "cube steak" comes from the squared-off impressions left in the meat after cooking. When handled and cooked correctly, these cuts can be delicious. The best part is that cube steak recipes are easy and quick to make, which makes them perfect for busy nights when you don't have much time to prepare and cook. Some names for home-cooked cube steak are:
Chicken Fried Steak
Garlic and Lime Marinated Cube Steak
Cube Steak with Mushroom and Onion Beef Gravy
Grilled Cube Steak
Cube Steak Sandwiches
Stuffed Cube Steak
Smothered Cube Steak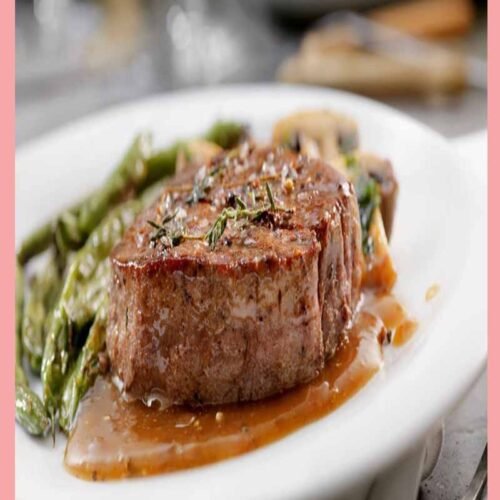 Salisbury Steak Recipe with Cube Steak
The Salisbury Steak Recipe with Cube Steak is usually served with gravy or brown sauce. Meat is ground and then combined with other ingredients.
Print
Pin
Ingredients
1

Pound

Cube steak

1/2

Cup

Flour

1

Tsp

Salt

1/2

Tsp

Black pepper

3

Tbsp

Butter

2

Tbsp

Canola oil

1/2

Medium onion

2

Garlic cloves

1/2

Pound

Button mushrooms

3/4

Cup

Red wine

1

Tbsp

Worcestershire sauce

1/2

Tbsp

Dijon mustard

3/4

Cup

Beef stock
Instructions
First, centre the oven rack and preheat to 250° F. On a big plate, mix flour, salt, and pepper. Shake extra flour off cube steaks.

Heat a Dutch oven with butter and oil. Put cube steaks in hot oil. Cook for 4 minutes per side.

When oil shimmers, add onion, garlic, mushrooms, and wine. Remove browned parts with a wooden spatula.

Add Worcestershire, mustard, stock and steak cubes to the sauce and mix well.

Cover and bake on the lower-middle rack. Cook for 25 minutes. Use mashed potatoes.
Tips
If you do not have a slow cooker, brown the steaks in a skillet before placing them in a Dutch oven with beef stock, onions, and Worcestershire sauce. Bake at 250°F for three to four hours.

Before cooking, dry the meat with a paper towel to ensure good contact between the steak and the pan. It won't become crispy on the outside unless it is dry.

Avocado oil, canola oil, and soybean oil are the best cooking oils for steak because they all have high smoke points between 400 and 520 degrees. With a smoke point of 450 degrees, clarified butter is another option.

A simple meat thermometer device works excellently if you're worried about overcooking your steaks or want them to be the same temperature every time.
Nutrition
Nutrition Facts
Salisbury Steak Recipe with Cube Steak
Amount per Serving
% Daily Value*
* Percent Daily Values are based on a 2000 calorie diet.
Final words: 
Cube steak, also called "minute steak," is a tender, inexpensive cut of beef. It's from the cow's top or bottom round. Stew uses round steaks. This tender cube steak recipe is the same as round steak or stew beef in soups, stews, and other slow-cooked foods.
Making a great steak involves picking a good cut of meat, seasoning it well, frying it, and making delicious gravy. The method of frying the steak gives it a nice texture. The final step, the gravy, is the key that ties the surface and the taste together as one and adds something delicious!
You May Also Like: