Joe's Crab Shack is known for their delicious seafood dishes. They serve some of America's finest crabs, shrimp, and amazing sides. Their seafood mushroom recipe consists of a giant mushroom filled with seafood stuffing. They also serve other items such as salads, sandwiches, and desserts.
This recipe for stuffed mushrooms gives you the flavors of Joe's Crab Shack without having to go out to eat at their restaurant. There are several ways to prepare stuffed mushrooms at home. This recipe uses pre-made puff pastry sheets that you'll cook along with some fresh ingredients before adding them inside the mushroom caps. The result is a flavorful, cheesy filling in each mushroom cap.
We made this joe's crab shack stuffed mushroom recipe so that everyone can enjoy this delicious dish with their friends and families without having to go to restaurants. And I'm pretty sure that this will definitely satisfy your craving.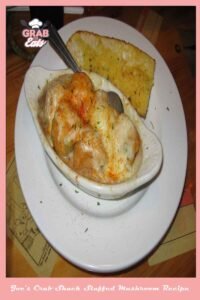 Know about Joe's Crab Shack Stuffed Mushroom Ingredients
This recipe requires a lot of ingredients. I've tried my best to make this recipe as simple as possible. But still, if you're unfamiliar with any of the below ingredients, don't worry, as I am going to talk about them in detail.
Butter: Butter is one of the best fats for baking or frying. It can withstand higher temperatures without burning the food. Butter also adds flavor and richness to foods. For example, if you want to make mushrooms taste better, try adding some melted butter before sautéing them. We are using ½ cup butter.
Flour: Flour is often used in mushroom cooking because it helps keep mushrooms moist while they cook. It also adds flavor and texture. If you want to use flour in mushroom cooking, add it at the beginning of the cooking process so that it doesn't burn or stick to the bottom of the pan. Also, avoid adding too much flour. This can cause the dish to be dry and heavy. We are using 3 tbsp flour.
Milk: Milk can be added at any point during the cooking process, but if you add it early, it won't have time to evaporate before the mushrooms are done. If you wait too long, the mushrooms may get soggy. We are using 1/4 cup milk.
Crabmeat: We are using 1 pound lump crabmeat for the seafood stuffing.
Shrimp: We are using ½ pound of shrimp as the stuffing.
Scallops: Scallops have a mild flavor and firm texture. It will be used with the stuffing. We are using 1/2-pound raw scallops.
Garlic: Mince the garlic before adding it to the recipe. 1 tbsp of minced garlic is enough for this recipe.
Parsley: We use 1 tbsp of parsley to add flavor to this mushroom dish.
Lemon juice: 1 tsp of lemon juice is required to preserve freshness and add flavor.
Breadcrumbs: Breadcrumbs add flavor and texture to dishes while providing a nice crunchy topping. We are using 1/4 cup breadcrumbs
Cheese: cheese is used in mushroom cooking to add flavor and texture. Cheese can be added to any dish where you want to enhance its taste and appearance. For example, if you were making pasta, you could use Parmesan cheese instead of butter. Or, if you wanted something savory, you could use cheddar cheese. If you wanted something sweet, you could use feta cheese. You can even make your own cheese by adding milk, cream, and other ingredients to your favorite dairy product, like yogurt. In this recipe, we are using 1/2 cup grated Parmesan cheese and 1/2 cup shredded mozzarella cheese
Mushroom: We are using 12 medium-sized white button mushrooms. The diameter should be about 2 inches.
Salt and pepper to taste
Method of Preparing Joe's Crab Shack Stuffed Mushroom Step by Step 
This recipe uses crabmeat and shrimp over mushrooms to make crab shrimp stuffed mushrooms. Crab spinach stuffed mushrooms are also available, and the cooking method is almost similar. Just replacing shrimp with fresh spinach will do the job.
Directions:
Step 1: Preheat the oven to 350º F.
Step 2: Take a 9×13-inch baking pan and smear butter over it.
Step 3: Set aside.
Step 4: Take a saucepan, and melt the butter over low hit.
Step 5: Whisk in the flour. Keep doing until smooth.
Step 6: Cook for about 3 minutes,
Step 7: Keep whisking while cooking, and add the milk slowly to the process.
Step 8: As soon as the mixture starts to boil, reduce the heat to simmer.
Step 9: Season with salt and pepper.
Step 10: Stir in the crabmeat, shrimp, scallops, bay scallops, garlic, and parsley.
Step 11: Remove from heat and stir in the lemon juice.
Step 12: Let the mixture cool down, then add the breadcrumbs and cheeses.
Step 13: Mix well.
Step 14: Spoon the mixture into the prepared baking pan.
Step 15: Arrange the mushrooms on top of the filling.
Step 16: Bake for 30 minutes.
Serve immediately.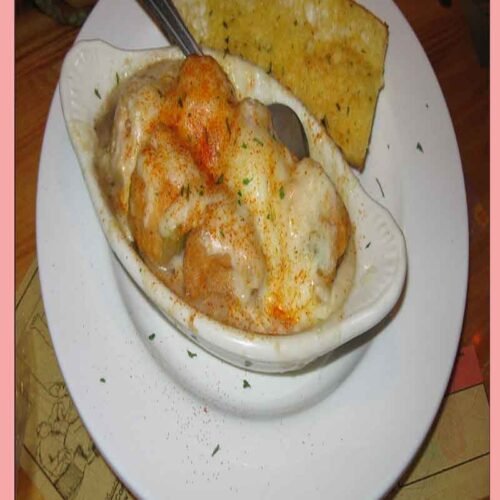 Joe's Crab Shack Stuffed Mushroom Recipe
Check out Joe's crab shack stuffed mushroom recipe, absolutely delicious and creamy. It is a great side dish for a grand dinner or lunch as well.
Print
Pin
Ingredients
1/2

cup

 Butter

3

tbsp

Flour

1/4

cup

Milk

1

pound

Lump crabmeat

1/2

pound

Shrimp

1/2

pound

Scallops

1

tbsp

Minced garlic

1

tbsp

Chopped parsley

1

tbsp

Emon juice

1/4

cup

Breadcrumbs

1/2

cup

Grated Parmesan cheese

12

Medium sized white button mushrooms
Instructions
Smear butter over the pan

melt the butter over low heat

Cook, while whisking, add the milk

Once it starts to boil, Season with salt and pepper

Stir in the crabmeat, shrimp, scallops, bay scallops, garlic, and parsley

After cooling down, add the breadcrumbs and cheeses

Spoon the mixture into the baking pan
Nutrition
Nutrition Facts
Joe's Crab Shack Stuffed Mushroom Recipe
Amount per Serving
% Daily Value*
* Percent Daily Values are based on a 2000 calorie diet.
Conclusion
In conclusion, stuffed mushrooms are delicious and fun to eat. They're also very healthy because they contain lots of fiber and protein. And if you're looking for a tasty side dish to serve alongside seafood dishes like shrimp scampi, baked clams, or lobster ravioli, look no further than Joe's Crab Shack's Stuffed Mushroom Recipe. Enjoy!
You May Like Also: