What can be better than homemade fries? Surely we cannot deny fries are appetizing. However, Rooster dumpster fries are far better than regular fries. Basically, you are baking french fries twice for Dumpster fries. Now, there are many versions of this trash can fries. But we have our Dumpster fries recipe. 
Now, you will have to collect a lot of ingredients for making the fries. You will have to spend at least 30 minutes of inactive time. But it takes around 1 hour to completely bake and make the fries. So, let's jump onto the main recipe here.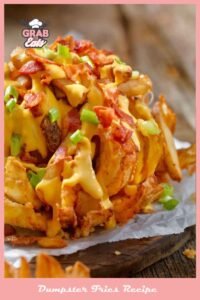 Know About the Trash Can Recipe and Ingredients
French Fries: French fries are the base ingredient for dumpster fries. Get a load full of greasy calories,
Rooster Fajita Seasoning: It's a blend of chili powder, garlic powder, and ground cumin. You can either make the seasoning home or buy them from a nearby grocery store. 
Rooster Chicken Breast: Rooster chicken breasts are usually juicy. We don't need tender chicken meat for the trash can fries. That's why opting for rooster chicken is the best option. 
Onion: Onions can make the fries caramelized and binds the oil perfectly. Also, the intense flavor of the onion will start to mellow down. Not to mention, onion can contribute a sweet flavor to the fries. 
Olive Oil: One thing for sure, there will be plenty of calories in one serving of the fries. And if you have a fryer or oven, baking the french fries is important. Using olive oil can make the baking faster and produce crispier results. 
Sour Cream: To balance the dryness of the fries, we have to add cream and sauce. Also, you have to assemble the fries in layers. And in between the layers, we will add a creamy sauce. And sour cream is one of the most important ingredients for our sauce. 
Pico de Gallo: Instead of using salsa, we will layer the fries using pico de gallo. Pico de Gallo has less liquid and offers various consistency. 
Jalapeno Popper: Using Jalapeno popper will add complexity to the overall taste of our fries. Mainly, it packs a lot of heat and spreads the heat on every level of the dumpster fries. 
Cream Cheese: We will mix the cream cheese with the sour cream sauce. There is no need to add a block of cheese because you have to melt it in the oven or pan. So, cream cheese is the best option for achieving a creamy texture. 
Chicken Stock: We want the fries to have an utterly meaty taste. So, while preparing the sauce, we will add the chicken stock. The chicken stock will balance the greasy aroma, and there will be a meaty flavor all around the dish. 
Bacon: Bacon blocks are best used as toppings. The crunchy portions of bacon in the fries can switch up your tastebuds while munching through the fries. 
Jalapenos: You would want a bit of freshness in the fries. Once you roast the fruit, it will bring out a subtle sweetness. On the other hand, you can add minced Jalapenos to add a bit of fresh heat. 
Garlic: Garlic is actually a type of flavoring agent for any type of dish. 
Black Pepper: Using black pepper can help reduce the digestive problems of eating a lot of greasy food. It won't add much flavor, but the natural kick will keep your nostrils shaking. 
Onion Powder: Onion powder will disperse through the fries and bring out a complex flavor and aroma. 
Parmesan: We will also add parmesan for intense cheesy flavor in our sauce. 
Spring Onions: We need spring onions for the layering. 
Pickled Jalapeno: Alongside fresh jalapenos, we can use pickled jalapenos for layering. 
Salt: You can add salt to taste. But make sure you don't spend a generous amount of salt. 
Beef: There's more to dumpster fries than just french fries and chicken. A layer of animal-style fries will increase the tasting experience. For the animal-style fries, we need beef. 
American Cheese: For the layering sauce, we also need American-style sauce.
Animal-style Sauce: If you want a complete American touch in our fries, it's better to add animal-style sauce. 
White Onion: Fresh white onion is best as a topping. 
Groundnut Oil: For the sauce, we will add groundnut oil to add a nutty flavor to our fries. We don't want to get too many oily flavors from our fries. 
Evaporated Milk: Evaporated milk can help gain a smooth texture in the animal-style sauce. Also, it will restrain the sauce from getting hard.  
Whole Milk: Whole milk can add a smooth consistency to the layering sauce. As you can see, there are two types of cheese in the sauce. And whole milk can help us achieve a smooth consistency. 
Cornflour: We will add cornflour to the cheese sauce. Mainly, cornflour will absorb water and will start to expand. As a result, there won't be long strands of cheese in the sauce. 
Red Leicester: It's another versatile option for making the cheese sauce delicious.  
How to Make Dumpster Fries Recipe?
Don't worry; trash can fries do not mean it's something bad. As far as we are concerned, you are loading the fries with high-calorie foods. Now, obviously, health concerns are at work here! Mainly, they are loaded with fries for a fun afternoon. 
Making the dumpster fries is quite simple. The fries have a chili base, followed by homemade french fries and rooster meats. Then, you have to work with cheese and layering. Yes, the layering will be very important for our loaded fries. 
Now, you have to divide the cooking process into three – making Rooster dumpster sauce, then to make rooster fajitas, and finally layering the fries. Now, the twice-baked French fries take just around 15 minutes to prepare. 
There's chicken, bacon, and even beef in the lot. So, you don't have to worry about getting bored while eating. Suppose you have a party or friends-gathering coming. In that case, this load of fries can sure to create the mood for spending an exhilarating afternoon. 
Ingredients You Need Are
2 Pounds of Frozen French Fries
1 Pack Rooster Fajita Seasoning
4 Rooster Chicken Breast
4 Rasher Bacon
2 Large Onions
3 Garlic Cloves
Sour Cream
Pico de Gallo
Jalapeno Popper
Animal-style sauce
Pickled jalapeno
4 Tablespoon of Olive Oil
1 Tablespoon of Groundnut Oil
4 Tablespoon of Cornflour
1 teaspoon of Black Pepper
1/2 Teaspoon of Onion Powder
150g Cream Cheese
350ml Chicken Stock
50g Parmesan Cheese
800ml Evaporated Milk
700g Red Leicester
Step by Step Instructions
Making the Cheese Sauce
Step 1: For making the cheese sauce, we will toss the cheese in the cornflour.
Step 2: Heat the milk over medium heat and gently tip the red Leicester cheese. 
Step 3: Whisk until you get the proper thickness. Remove and cover it.
Making the Rooster Chicken
Step 4: Use a baking tray to spread the peppers and onions. Dress them using 2 tablespoons olive oil and 2 tablespoons fajita seasoning. 
Step 5: Roast them in the oven for 25 minutes.
Step 6: Take a large non-stick skillet to fry the rooster chicken in 2 tablespoons olive oil. While frying, add fajita seasoning. 
Step 7: While frying, stir in the roaster peppers and onions and combine. 
Making the Jalapeno Popper Mix
Step 8: Now, we need to make the jalapeno popper mix. Fry the bacon in a non-stick skillet and throw in the black pepper, jalapenos, and garlic. 
Step 9: When you start to get the fragrance of the jalapeno mix, pour in the chicken stock and onion powder. 
Step 10: When the stock is reduced by half, stir in the cream cheese. 
Step 11: Finally, add the chicken and combine by stirring. Season with salt and keep the mix hot. 
Finally, Making Animal Style fries.
Step 12: Again, use the sizeable non-stick skillet and heat 1 tablespoon of groundnut oil. 
Step 13: Fry the minced beef nuggets in different batches. Wait until all sides are well browned. Then set it aside on a plate. 
Step 14: Add the bacon and fry until crisp in the same skillet. 
Step 15: Add onions and a pinch of salt to the bacon. Turn the heat down. 
Step 16: Cook until we get caramelized and sweet onion. 
Step 17: Again, add the beef to the pan and combine them. Set the fries aside and keep them warm. 
Assemble the Trash Can Fries
Step 1: Grab a large plate for assembly
Step 2: First, we will spread the Jalapeno chili on the plate. 
Step 3: Place the french fries on top
Step 4: Pour in the cheese sauce, sour cream, pickled Jalepeno, Pico de Gallo over the layer. 
Step 5: Add the animal-style fries and again layer them with french fries.
Step 6: Sprinkle chopped scallions and sauce
Step 7: Make at least 4 layers for the fries.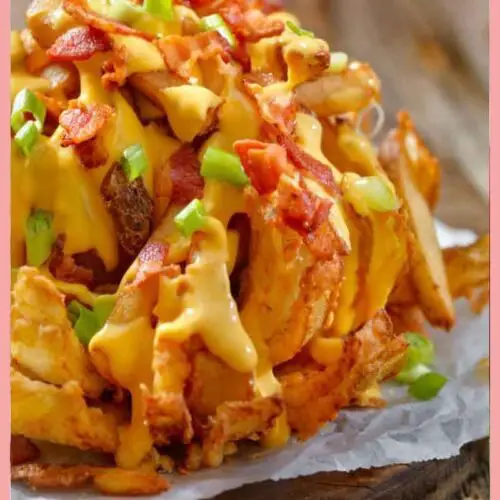 Dumpster Fries Recipe
Our Dumpster fries recipe can top even the best of fries. Make delicious trash can fries for 4.
Print
Pin
Ingredients
2

lbs

 French Fries

Rooster Fajita Seasoning

4

Rooster Chicken Breast

2

Large

Onions

4

tbsp

Olive Oil

Sour Cream

Pico de Gallo

Jalapeno Popper

150

gm

Cream Cheese

350

ml

Chicken Stock

4

Rasher Bacon

4

jalapenos

3

Garlic Cloves

1

tbsp

Black Pepper

1/2

Onion Powder

50

gm

Parmesan Cheese

Pickled Jalapeno

Animal Style Sauce

1

tbsp

Groundnut Oil

800

ml

Evaporated Milk

4

tbsp

Cornflour

700

gm

Red Leicester
Instructions
Prepare the cheese sauce with milk, Leicester cheese, and cornflour.

Make the rooster chicken by frying the chicken with olive oil and fajita seasoning. Also, bake peppers and onions and combine with the chicken.

Prepare jalapeno popper mix with bacon, black pepper, garlic, chicken stock, onion powder, cream cheese, and season with salt.

Prepare animal style fries and staff all the dishes in serving plate.
Nutrition
Nutrition Facts
Dumpster Fries Recipe
Amount per Serving
% Daily Value*
* Percent Daily Values are based on a 2000 calorie diet.
Wrapping Up
Roosters do have the best trash can fries. Now, you can go on a roller coaster of a ride making these fries at home.