Damon's Grill has established itself as one of America's favorite restaurants. Its sweet potato casserole is another example of this success. This Damon's grill sweet potato casserole recipe is perfect for Thanksgiving or Christmas dinners. These two occasions call for comfort foods like sweet potatoes. 
Sweet potato casserole is a must-have item at family gatherings, especially in the falls. With its rich flavor and healthy ingredients, this casserole is a perfect choice. The best part of this dish is that it doesn't require any cooking skills! All you'll need to do is microwave some sweet potatoes and mix them with a couple of other ingredients. And it makes the best leftovers. In addition, you can refrigerate this for a week!
So, in this article, I'm going to tell you everything you need to know to make delicious Damon's sweet potato casserole. Keep reading on.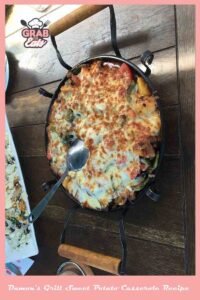 Know about the Damon's grill sweet potato casserole ingredients
Sweet potatoes are loaded with nutrients such as vitamin C, potassium, fiber, and antioxidants.
Ingredient list:
Sweet potatoes: This is the main ingredient here. You will need 6-7 medium-sized sweet
potatoes.
Pecans: pecans add texture and nutty flavor to the dish. To have the nutty crunch in your
For every bite, use a cup of chopped pecans.
Eggs: Eggs work as a binding agent here as they bind all ingredients together. You can
use two eggs here.
Marshmallow: It's smooth and sweet with a fruity, nutty, buttery texture that everyone loves. Have two cups of mini marshmallows on top of your dish.
Butter: Butter makes everything taste good, and for that, you will need about 75 grams of
melted butter while making this dish.
Brown sugar: brown sugar is healthier than regular white sugar and adds a nice color
to the food. To make this dish, you may need three-quarters of a cup of brown sugar.
Cinnamon: The spicy and sweet flavor at a time hits our mouths very differently. So use a
teaspoon of cinnamon powder in it.
Salt: What is a better tastemaker than salt? Use 1 teaspoon of salt, or your potatoes may
not taste good.
Method of preparing the Damon's grill sweet potato casserole
Making sweet potatoes is simple but requires patience and attention to detail. Here's how to make a delicious side dish that tastes just like Damon's Grill!
Step 1: Peeling sweet potatoes is easier than peeling regular potatoes. Just cut the sweet potato lengthwise, remove the skin, and slice the flesh into 1/8-inch-thick rounds.
Step 2: Preheat the oven to 375°F.
Step 3: Place sweet potato slices on a baking sheet lined with parchment paper.
Step 4: Keep baking for 15 minutes until tender.
Step 5: Remove from heat.
Set aside.
Step 6: Take a large bowl to combine all ingredients except cheese.
Step 7: Stir well to coat evenly.
Step 8: Transfer mixture to a 9×13 inch pan. Take a 9×13 inch pan and transfer the mixture into it.
Step 9: Top with shredded mozzarella cheese.
Step 10: Keep baking for about 25 minutes. until golden brown and bubbly, 
Step 11: Let cool slightly before serving.
Enjoy!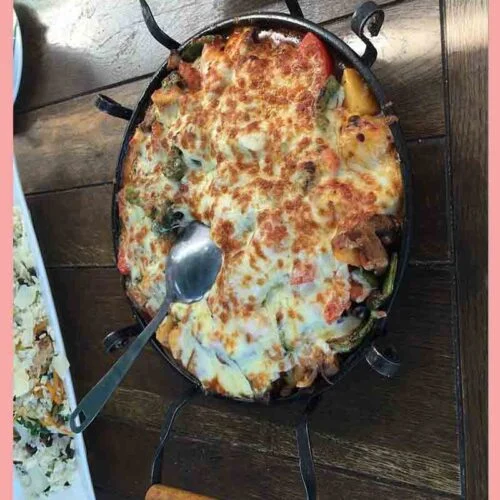 Damon's Grill Sweet Potato Casserole Recipe
This Damon's grill sweet potato casserole recipe tastes exactly like the original. It's made with fresh ingredients and tastes amazing!
Print
Pin
Ingredients
6

Medium sized sweet potatoes

1

cup

Chopped pecans

2

cups

Mini marshmallows

75

grams

Melted butter

1

cup

Brown sugar

1

tbsp

Cinnamon powder

1

tbsp

Salt
Instructions
After baking combine all ingredients except cheese

Let cool slightly before serving
Nutrition
Nutrition Facts
Damon's Grill Sweet Potato Casserole Recipe
Amount per Serving
% Daily Value*
* Percent Daily Values are based on a 2000 calorie diet.
Conclusion
I'm sure you've heard of the sweet potato casserole before. It's time to make it yourself. This dish is delicious and healthy and makes a perfect side dish for any meal. Plus, it's super easy to prepare and will take only 30 minutes from start to finish. Give it a shot today!
You May Also Like: