As far as I know, Concession Stand prepares the best hot dog chili ever! Isn't it so unfair that some of us can have them whenever we want and some not! Hot dogs with chili are a very tempting food for any type of gathering. Today we are here with the authentic Concession Stand Hot Dog Chili Recipe that will blow your mind. Cause all the ingredients are so available and with this chili recipe, you will enjoy hot dogs way more than ever! Let's know about the recipe.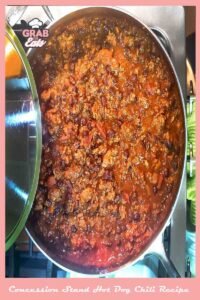 Know About the Ingredients for Southern Hot Dog Chili
Check out this ingredient and learn more about how it affects your food followed by the measurements and step by step method.
Lean Ground Beef: This is the base of your desired hotdog chili recipe. Have 1 lb of lean ground beef. Usually, I prefer the  90% lean option. As per your liking, you can use your preferred lean option but it is not recommended to use 70% lean, there is way too fat in there (30%) 
Onion: Onion provides a savory texture to the dish. You can call it the second base, without onion the flavors are never complete. 1 large onion, finely shredded would be great.
Garlic: Alike onion, garlic gives a strong flavor. 2/3 large garlic cloves or 1 tbsp of roughly chopped garlic would be enough. You can use 1/2 tsp of garlic powder as well but the strong odor of fresh garlic is more tempting.
Water: In order to thin the chili for hot dogs, add 1/3 cup of water max, not more. This can make the sauce too runny.
Tomato sauce: Tomato sauce is one of the vital items for any type of chili. Here in hot dog chili sauce, this item is evitable. It brings a rich tomato flavor with just 8 oz.
Ketchup: For providing a sweet taste, ketchup is important. Usually, as a topping, a sweet type of ketchup is served but here we are using only this hotdog chili. So, using ketchup is a must here. Add ¾ cup of ketchup here.
Sweet paprika & chili powder: These are used as zesty seasonings. 1 tbsp of sweet paprika and 1 tbsp of chili powder are necessary!
Worcestershire sauce: It enhances the savory and salty flavor of the chili. Just 1 tbsp would be enough for the recipe. Don't use more, cause it will ruin the flavor of chili. Worcestershire sauce has a very strong flavor of its own so a bit of extra can change the whole thing. 
Yellow mustard: It has a tart and tang flavor and 1 tbsp of this adds an acidic bite to the recipe.
Salt and pepper: Salt and pepper are used here to adjust the seasoning and sweetness of the flavor. 1 tsp of salt and ½ tsp of freshly ground black pepper is fine with the recipe. You can add more or less according to your taste. 
Methods of Preparing Old Fashioned Hot Dog Chili Step by Step
For a quick recipe, I'm using a large Dutch oven here. In slow cooker it takes way more time but that is hassle-free and no tension of going anywhere wrong. However, I will write down both procedure how to cook authentic southern hot dog chili at home!
With Dutch Oven
Step 1: Bring out a large Dutch oven and turn on the stove with medium-high heat.
Step 2: Add 1 finely shredded onion along with 1lbs of lean ground beef. As the cooking process continues, use a wooden spoon to break the beef into smaller pieces. It helps to cook the ground beef finely and quickly.
Step 3: After 10 minutes to 12 minutes, when the meat is no longer pink and the onions are also translucent, add 1 tbsp of minced garlic. Stir to combine and continue cooking for 2 more minutes.
Step 4: Add 1/3 cup of water to the meat mixture along with 8 oz. of tomato sauce, 1 tbsp of Worcestershire sauce, 1tbsp of yellow mustard and ¾ cup of ketchup. Stir to combine everything.
Step 5: Now it is time to add the dry ingredients 1 tbsp of sweet paprika, 1 tbsp of chili powder, 1 tsp of salt and ½ tsp of freshly ground black pepper. I always prefer to adjust seasoning before the boiling. You can sprinkle them afterwards.
Step 6: Bring the dish to a boil, it takes no more than 5 minutes with medium-high heat.
Step 7: Now, reduce the heat to low and let the chili thicken by simmering for about 28 minutes to 30 minutes.
With Slow Cooker or Crock Pot:
With slow cooker, this recipe is the easiest but time consuming. Sometimes I feel really not-doing-anything-mood, there the slow cooker comes. My grandma says the cooking process is the slower the better, I don't know exactly but I bet she mentioned about slow cookers. Let's see the steps!
Step 1: In the slow cooker add all the ingredients: lean ground beef, onion, garlic, water or tomato juice (2 tbsp), ketchup, yellow mustard, Worcestershire sauce, sweet paprika, chili powder, salt and pepper. Stir the ingredients to mix properly and cover the lid.
Step 2: Set the timer for 6 hours on low settings and wait to have the slow cooker hot dog chili.
For serving, place cooked sausage into the hotdog bun, pour 2 tbsp of chili over with shredded cheddar cheese and that's all!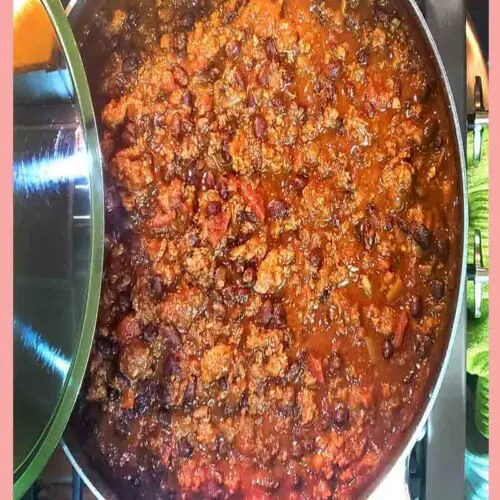 Concession Stand Hot Dog Chili Recipe
Check out this very tempting Concession Stand Hot Dog Chili Recipe absolutely easy to make at home. Just prepare this at home and you will never have a hot dog without this chili.
Print
Pin
Ingredients
1

lb

Lean ground beef

1/3

cup

Water

8

oz

Tomato sauce

1

tbsp

Worcestershire sauce

1

tbsp

Yellow mustard

1/3

cup

Ketchup

1

Onion

1

tbsp

Garlic

1

tbsp

Chili powder

1

tbsp

Sweet paprika

1

tbsp

Salt

1

tbsp

Black pepper
Instructions
Cook beef, onion, and garlic for 10-12 minutes

Add the other ingredients and bring the mixture to a boil

Reduce the heat to a simmer and cook for 30 minutes
Nutrition
Nutrition Facts
Concession Stand Hot Dog Chili Recipe
Amount per Serving
% Daily Value*
* Percent Daily Values are based on a 2000 calorie diet.
Wrapping Up
This concession stand's authentic chili makes the hot dogs more tempting and tasty. Share this recipe with your friends and family members and give them a chance to try at home within less than 1 hour. 
You May Also Like: