Spices are considered the heart of any dish you make. To add aroma, depth, or flavor to the meals we prepare, there's no alternative to spice. There are countless spice mixes or seasonings available on the market. But the Issou seasoning is one of the best. 
Different dishes with Issou spice seasoning will add warm and slightly sweet heat to your dish. It changes the typical taste of food.  
If you want to try this wonderful seasoning at home, here we are. Go through our recipe guide and make your own Issou spice recipe. It's a pretty easy and quick recipe that everyone can make.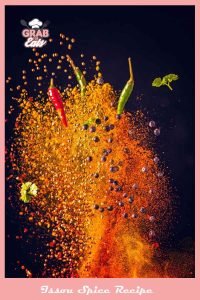 What is Issou Spice Mix/ Seasoning?
The word "Issou" means to spice up or to season. It comes from the Wolof language. Issou seasoning is an exclusive spice mix made of different spices. T
It's assumed that the origin of the Issou seasoning was in West Africa. It comes with a unique flavor profile and tastes both savory and sweet. 
If you want to make this Issou spice recipe at home, it may vary based on where you reside. However, there are some fundamental spices that you must add in terms of Issou, regardless of where you are from. 
The key spice to make this seasoning is ginger. Also, you have to add cinnamon, nutmeg, coriander, cardamom, cumin, and many more based on your preference. 
Issou Spice Recipe Ingredients
You already know that making this Issou spice recipe seasoning varies from place to place. It means you can combine your locally available herbs and ingredients and make your own Issou. For this flexibility, making this spice seasoning will create a unique spice mixture. 
However, you have to select the types of spices and proportions carefully to create a unique, bold, and complex flavor. Let's check out what spices you need to make this seasoning-
Ground Ginger (200 Grams)
Ginger is the key ingredient of this seasoning. So, you'll require 200 grams of ginger powder. 
Garlic Powder (100 Grams)
Usually, garlic has a strong flavor. So, you need to take the amount less than other spices. Take 200 grams of garlic powder
Chili Powder (200 Grams)
To add a heating element to your seasoning, you'll need 200 grams of chili powder.
Coriander & Cumin (150 Grams Each)
To make the seasoning flavorful, you'll need to add some flavor-influencing agent. In this case, coriander and cumin are other key ingredients for this seasoning. And you cannot skip these spices. So, take 150 grams of each of these spices. 
Cinnamon (200 Grams)
Take cinnamon powder of 200 grams. 
Nutmeg (200 Grams)
For a good flavor, nutmeg comes in handy, like coriander and cumin. So, you will need to take 200 grams of nutmeg powder as well.
Jamaika Pepper (200 Grams)
Adding Jamaica pepper is required for added flavor. So, take 200 grams of ground Jamaika pepper. It will add flavor and also heat.
Hibiscus Flower (5 Flowers)
To add a tart and balance other spices' taste and flavor, hibiscus flowers are added to the Issou seasoning. It's the most traditional one.
NB: You must take all these spices in ground or powder form to make the Issou seasoning. You shouldn't take them fresh. Or you cannot preserve them. However, if you need it for instant use and not for storing, you can use fresh spices. 
How to Make Issou Spice Recipe?
You need only 2 minutes and two simple steps to make this complexly flavored seasoning. Here's how-
Step-1
Take a mixing bowl and take your spices one after another. Keep mixing them properly. Make sure all the spices are well mixed. 
Step-2
Once the spices are mixed well, keep them in an air-tight container. You can store the seasoning for up to six months. But ensure the temperature is 70°F and keep the container away from sunlight and heat. Your Issou spice recipe is ready. 
Recipes to Make with Issou
Chicken Roast
Regular Fish Curry
Roasted Veggies
Grilled Vegetables
Grilled Chicken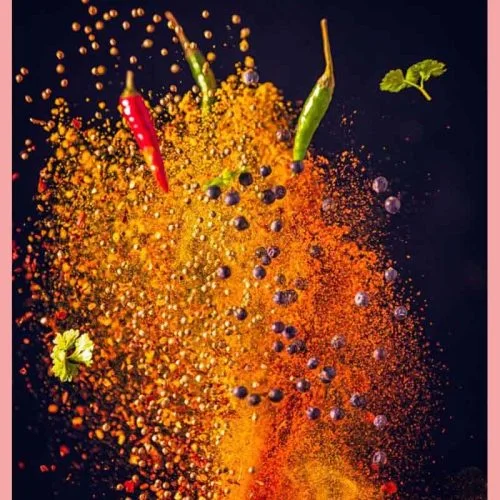 Issou Spice Recipe || The Best Aeromatic Seasoning for All Dishes
If you like spice seasonings, try the Issou spice recipe. An exclusive African seasoning recipe offers a unique taste and flavor in food items from meat to fish.
Print
Pin
Ingredients
200

Grams

Ground Ginger

100

Grams

Garlic Powder

200

Grams

Chili Powder

150

Grams

Coriander & Cumin

200

Grams

Cinnamon

200

Grams

Nutmeg

200

Grams

Jamaika Pepper

5

Flowers

Hibiscus Flower
Instructions
Mix all the spices in a mixing bowl properly.

Keep them in an air-tight container maintaining a 70°F room temperature.

Your seasoning is ready to use for your next recipe.
Tips
Try storing the

Issou seasoning

in a sealed container. You can store it for up to years.

Don't refrigerate your seasoning because the

Issou spice

will lose its flavor and quality in terms of the higher levels of humidity in the fridge.

If you don't find Hibiscus to add to the spice mixture, skip it. It's an optional ingredient for this seasoning recipe.
Nutrition
Nutrition Facts
Issou Spice Recipe || The Best Aeromatic Seasoning for All Dishes
Amount per Serving
% Daily Value*
* Percent Daily Values are based on a 2000 calorie diet.
Conclusion
Over time, the Issou spice recipe evolved into specific regional spice mixtures. And later, it is associated with particular traditions and cultures. Although it's an African discovery, you no longer have to go through any stiff ingredients list. 
Everything depends on what spices you like to mix and what's not. Depending on your preference, taste, and location, you can make this amazing seasoning.