Chilli is the fruit or pepper from which chilli powder is extracted, while chilli con Carne is a stew made with beef and various hot spices. Chilli con Carne means 'chilli with meat'. Cumin, oregano, and smoked paprika work well together to give the dish a lot of flavours. This tasty meat dish comes from the north of Mexico and the south of Texas.
This comforting and filling Gordon Ramsay Chilli Recipe is a great meal for the whole family or for serving to friends at a casual dinner party. This is a quick and simple dish for a satisfying meal. Changing to suit your tastes and your family's needs is easy.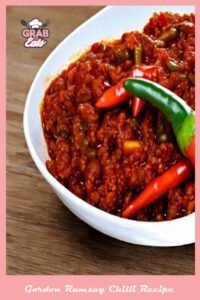 Know About Your Ingredients:
Onion: 1 large Onion; chopped. Onions have a variety of tastes and smells, including sweet, savoury, and aromatic.
Garlic: 2 garlic cloves; finely chopped. Crushing and drying fresh garlic removes much of its flavour, making it more suitable for seasoning.
Red chilli: 1 red chilli; deseeded (or half seeds for spice). Red chillies can give your food a lot of flavours.
Sprigs thyme: 2 sprigs thyme; leaves picked and roughly chopped. Thyme adds subtle flavour to a dish.
Olive oil: For frying. Extra-virgin olive oil is great for cooking since olive oil loses its flavour when heated.
Beef: 500 grams of good-quality beef mince. Minced beef is finely chopped with a knife, meat grinder, mincer, or mincing machine.
Cumin: 1 teaspoon of ground cumin. Cumin is used in curry, garam masala, and taco seasoning.
Paprika: 2 teaspoons of sweet paprika. Peppers can be tamed by adding sweet paprika.
Oregano: 1 teaspoon of dried oregano. Oregano has a camphoraceous flavour and aroma.
Tomato: 3 fresh tomatoes, roughly chopped. Tomatoes give dishes flavour, texture, and colour.
Canned Tomato: 400 grams of canned chopped tomatoes. Tinned or canned tomatoes are cooked and peeled tomatoes stored in a sealed container.
Tomato puree: 5 tablespoons of tomato puree. Tomato puree is a thick cooking liquid.
Chicken or beef stock: 200 ml chicken or beef stock. Stock is made from bones that are simmered for a long time to extract flavour and nutrients from the bones and any meat or fat left on them.
Cinnamon: 1 stick cinnamon. Cinnamon is used in sweet and savoury dishes, cereals, snack foods, teas, and traditional foods.
Bay leaf: 1 bay leaf. The bay leaf is a standard leaf used in cooking to add flavour.
Bean: 400 g of kidney beans; drained and rinsed. The kidney bean is a common bean that gets its name because it looks like a human kidney.
Salt and pepper: Salt and pepper to taste. It improves the flavour of other foods, and pepper gives food taste and heat.
How to Make Gordon Ramsay Chilli:
Step 1: In a large saucepan, heat 2 tablespoons of oil and add the onion, garlic, chilli, and thyme. At the same time, brown the ground beef in a separate pan with a bit of oil over medium heat.
Step 2: Add the dried spices to the onions and cook them until their smell comes out. Then add the beef and stir it in well. Add the fresh and canned tomatoes and cook for about 5 minutes.
Step 3: Pour in the stock and taste it to decide how much tomato puree to add. Put in the cinnamon and bay leaf, bring the boiling water to a boil, and then turn down the heat to a simmer.
Step 4: Once the sauce starts to thicken, add the kidney beans and let them cook for another 5–10 minutes so the beans can soak up the flavour. Your Gordon Ramsay chilli is ready to eat.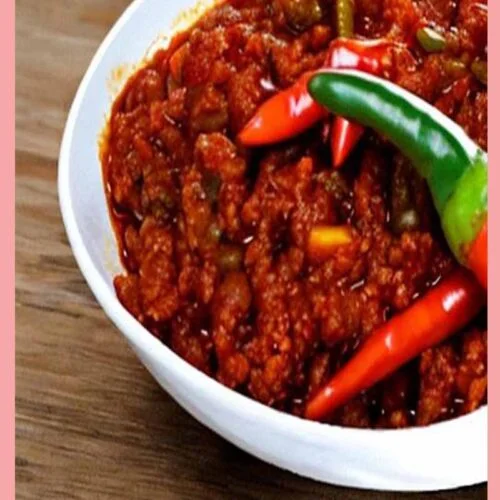 Gordon Ramsay Chilli Recipe
Gordon Ramsay Chilli Recipe uses ground beef, vegetables, spices, chilli, and beans. It's an excellent side dish for tacos and nachos and is delicious.
Print
Pin
Ingredients
1

Large onion

2

Garlic cloves

1

Red chilli 

2

Sprigs thyme

Olive oil

500

Grams

Beef

1

Tsp

Ground cumin

2

Tsp

Sweet paprika

1

Tsp

Dried oregano

3

Fresh tomatoes

400

Grams

Canned tomatoes

2

Tbsp

Tomato puree

200

Ml

Beef stock

3

Tbsp

Tomato puree

1

Stick

Cinnamon

1

Bay leaf

400

Grams

Kidney beans

Salt and pepper
Instructions
In a pan, brown the meat. In another pan, heat the oil and cook the onion, garlic, thyme, and pepper.

Add spices, cooked beef, and tomatoes, and cook them.

When cooked, add stock, puree, cinnamon, and bay leaf and simmer until thick.

Lastly, cook kidney beans for 5-10 minutes. Serve it.
Tips
If you add baking soda to ground beef before cooking, the meat won't dry out since the PH will rise, and the proteins won't bind as quickly (which dries out the meat).

This chilli tastes better the longer you cook it, so cook it low and slow. The taste will be great, and the slow cooking will make the beef soft and the best chilli.

Don't skip browning the meat. This is the point where you start building flavour. Try browning it in a bit of bacon fat for extra flavour!

If you try to brown too much meat at once, the meat will steam instead of brown and you won't get the full flavour.

Adding salt at the beginning lets the flavours develop as it cooks. Don't forget to taste it at the end and add more as needed.
Nutrition
Nutrition Facts
Gordon Ramsay Chilli Recipe
Amount per Serving
% Daily Value*
* Percent Daily Values are based on a 2000 calorie diet.
Final words: 
Gordon Ramsay's chilli con Carne has all the flavours of Mexico and stays true to its roots. This colourful dish by Gordon Ramsay is based on ground beef and tomatoes. This tasty recipe is great on its own or with rice for a lighter lunch.
Chilli powder in America is a spice mix commonly used in Mexican chilli con Carne recipes. It's mostly ground chilli pepper, paprika, garlic, and cumin. It is also healthy, as it contains meat and beans. Thus, it is high in protein and also high in fibre. You can try this recipe at your home. Enjoy it!