Everyone like to have fruits more or less. Different sessions bring us different types of fruits. Especially in the summer, we get various fruits with a variety of tastes. So, having fruit in an exclusive way can make it more fun while you've lots of fruits at home. 
And this is where the frozen fruit cup recipe comes in handy. It's a nutritious fruit mix of all your favorite fruits. You can add any of your preferred fruits to this recipe. 
However, fruits that come in red and green colors like strawberries or grapes are the best. Let's check out how to make this dish.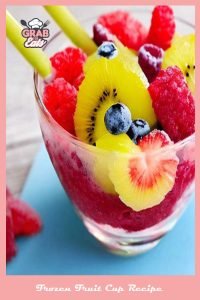 What Fruits Can You Use?
No specific rules here like this can be added and this cannot. All types of fruits are perfect to add to this fruit cup recipe. Still here's a short fruit list for you-
Red Apples
Green Apples
Strawberries
Mandarin Orange
Blueberries
Banana
Cherries
Frozen Fruit Cups Ingredients
No spice or animal-based ingredients you need to make this simple recipe. Here's what you require-
Lemon Juice (2 Tsp)
Spreading lemon juice will give a savory flavor and you'll surely love this flavor. So, take 2 tsp of lemon juice. 
Strawberries (½ Pound)
Mixing large-size strawberries will make the dish perfect. So, take ½ pound of large strawberries and wash them properly. Now chop the strawberries into thin slices.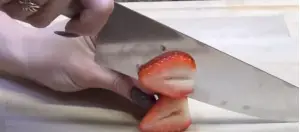 Adding the ripped red strawberries will make the recipe sweet and delicious. Try to avoid over-ripped strawberries. It will distaste your dish. 
Ripped Banana (6)
You also need 6 ripped bananas to add to your fruit cup. Take the bananas and wash them. Chop the banana as same as you chopped the strawberries. However, adding bananas can make the recipe a bit smelly. In this case, if you don't like this smell, skip adding banana. 
Kiwis (4)
Take 4 kiwis and wash and slice them the way you sliced bananas and strawberries. Keep them aside. You can substitute kiwis with cucumbers. At this point, you'll require 2 cucumbers only.
Blueberries (½ LBS)
Adding blueberries to the fruit cup will increase the taste. Take ½ pound of blueberries. You not need to chop them like strawberries. Keep them whole because the blueberries are small in size. And chopping them will make them even smaller. 
Mandarin Orange (2 Cups)
Mandarin orange then the fresh orange is more flavorful and colorful. Take 2 cans of mandarin orange. 
Pineapple Tidbits (1 Can)
Adding the fresh pineapple won't bring the additional taste and flavor that the pineapple tidbit can. Pineapple tidbit is the pieces of pineapples that come with juice. It delivers a mildly tart and sweet flavor. To make your fruit cup recipe, take 1 can of pineapple tidbits. 
Juice Concentrate (1 Can)
A can of juice concentrates on pineapple, banana, and orange flavors. You need the juice concentrate to give your fruit cup a creamy texture. Taking 1 can be perfect. 
How to Make Frozen Fruit Cups?
Only four simple steps to follow to make your homemade fruit cups-
Step-1
Mix the banana slices and strawberries in a mixing bowl and spread lemon juice over and mix with them. Keep the bowl aside for 5 minutes.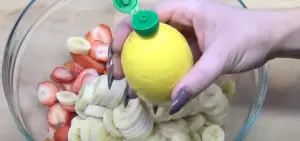 Step-2
Take the bowl of strawberries and bananas mixed with lemon juice. Now add all other fruits along with mandarin orange. And mix them with a spoon. Mix slowly so that the banana slices won't get mashed.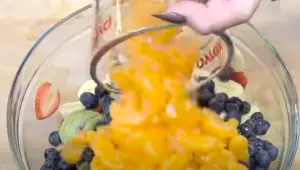 Step-3
This time add the pineapple tidbits to the fruit mixture and keep mixing.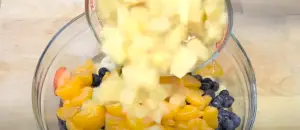 Step-4
Now add the juice concentrate and mix well. Your fruit cup recipe is ready to serve.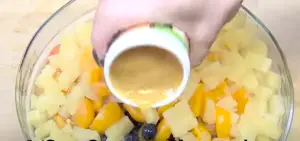 Step-5
Take the cups and pour your mixture of fruits into them. Refrigerate the cups for 30 minutes and serve.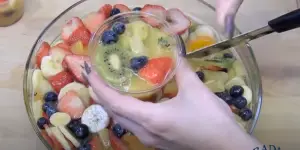 Best Side Dishes to Serve With
A variety of dishes are well-matched with the fruit cup recipe. The following the are most served-
Sandwiches
Burgers
Quesadillas
Pasta
Fried Chicken
Grains
Vegetable Salad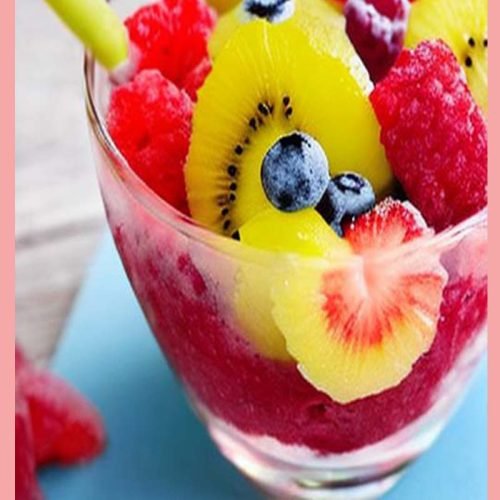 Frozen Fruit Cup Recipe || A strawberry fruit Cups Recipe
Add a frozen fruit cup recipe to your meal and serve fruits in a unique way.  Significantly, you need no cooking or baking. It's delicious, yet easy to make within minutes.
Print
Pin
Ingredients
2

Tsp

Lemon Juice

½

Pound

Strawberries

6

Ripped Banana

4

Kiwis

½

Lbs

Blueberries

2

Cups

Mandarin Orange

1

Can

Pineapple Tidbits

1

Can

Juice Concentrate
Instructions
Spread lemon juice over the banana and strawberries mixture. And keep the bowl aside for 5 minutes.

Now add all other fruits along with mandarin orange with the banana and strawberries. And mix them with a spoon.

Add the pineapple tidbits and mix.

Now add the juice concentrate and mix well.

Take the cups and pour your mixture of fruits into them.

Refrigerate the cups for 30 minutes and serve.
Tips
Your fruit cup will be delicious if you add peanut butter to it.

You also can add yogurt to your dish to enhance the taste and flavor.

Sprinkle a tsp of sugar if you like sweet.
Nutrition
Nutrition Facts
Frozen Fruit Cup Recipe || A strawberry fruit Cups Recipe
Amount per Serving
% Daily Value*
* Percent Daily Values are based on a 2000 calorie diet.
Conclusion
Frozen fruit cup recipe is a popular recipe, especially as a dessert. It's an ideal after-dinner food item. Because it delivers plenty of minerals and vitamins. In terms of its quick-making process, you also can serve it as snacks over cookies or chips. 
The low-calorie makes this food dish a perfect item for kids and adults. However, those who have diabetes shouldn't go for this recipe.  
Fruits cup recipe with no added chemicals and sugar is the most effective way to serve fruits. So, don't skip including this quick recipe as part of your menu.